Hello hungry peoples,
Today we are venturing to the Pandsi cake-off. Ideally this would be some kind of cake related battle, preferably consisting of people throwing cake at my cake hole. Sadly there was no cake for my cake hole this day. My Aussie readers will already be very familiar with the Australian Woman's Weekly Birthday Cake book. This book is iconic, especially for us late 70's early 80's babies. Nearly every Aussie has had one of these cakes made for them. If they were especially loved they even got a few of them.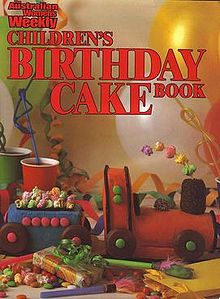 I have spent hours perusing the pages of this book, dreaming of birthday cakes to come, so this event filled me with excitement. The basic premise: people sign up to bake one of the cakes in the book, with every cake ultimately covered. The cakes were then auctioned off, with the proceeds going to PANDSI.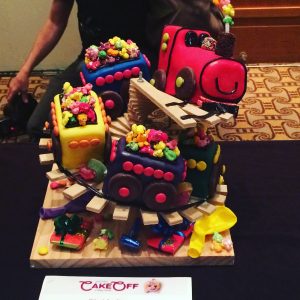 PANDSI is a support organisation for people with post and antenatal depression. As someone who suffered severe post-natal depression and a lover of cake I was in. Then I kinda forgot about actually signing up and totally missed the boat. Sadness ensued. Thankfully one of my friends had her act together, the lovely cake maker Kathy. She even has the skills to make this happen. My cake decorating skills are…lets say……untested. She was nice enough to let me live vicariously through her. She originally thought she had signed up to make the carousel cake. This is a towering engineering fete. Very exciting!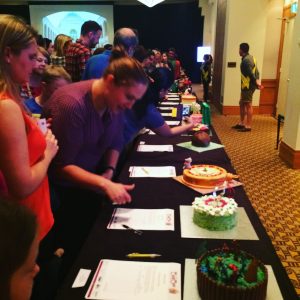 Sadly it was not to be. It turns out that the carousel wasn't actually in the first edition. What Kath had signed up for was the CORRAL cake. Not quite as exciting but she resolved to kick arse at it. A kick some arse she did. The horse comprised chocolate fondant that she sculpted. The grass and ground were made of coconut that had been coloured green and brown. A chocolate fence was constructed but then abandoned because she wasn't happy with the look of it. She also taught me some basic cake decorating skills. I now know about the crumb coat is and how crazy hipsters like to use it for their wedding cakes. "it's not finished, it is not ok!". Fair enough!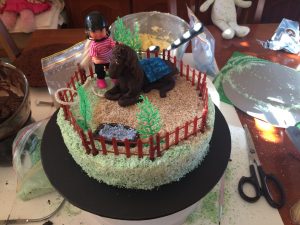 The result was adorable. So cute in fact that Kath's girls resolved that they would be the ones to win the cake. The actual event was on a Saturday afternoon at the Hyatt. It was crazy busy. We had to queue to get in and essentially had to wait in line to see every cake. This was no orderly queue, this was chaos. People lining up in different directions, barging in when becoming desperate. It took two hours to see everything (and I think I skipped a few). My inner mantra was "it is good it is so busy, it is for charity". This was getting a bit ragged towards the end. I think I even became a bit claustrophobic. I did enjoy the nostalgia though, and some of the cake interpretations were just plain amazing.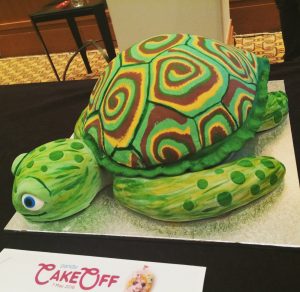 I couldn't resist putting a bid on the turtle cake. Isn't he cute? I also put a bid on a jelly cake, as I have a jelly obsessed husband.  I bid quite high, cause you know…..charity but sadly it was a complete bust. Kath's girls missed out on their Mum's cake which was equal parts heartbreaking and exhilarating. She did a great job! Kath's eldest girl did manage to get Boaty Mcboatface, which helped to make us all feel better. She even offered some to me, which was beyond sweet. By the end I felt like yelling out "give me cake…..take my money" to no avail. Thankfully you can still make donations here. Sadly no cake will be involved but you can feel warm and fuzzy for donating to a good cause.
P.S. The story does have a happy ending. Kath has promised to make me a turtle for my birthday. The book lives on!
P.P.S Apparently this is going to become a yearly event. Next year I will have my act together!