Hello hungry peoples,
Anyone who knows me knows that my kinda crazy lends itself to organising and putting boxes in boxes, sometimes much to my hubby's despair. Geeze, I love sorting stuff into boxes. I nearly died of joy when my couch arrived in the post and the arms and back were inserted into the base making it one singular boxy unit. You had to unzip it and unfold everything like some kind of couch transformer. Drool!
I have recently been sorting out my herb collection. For my fresh herbs I have a number of Ikea window boxes where I keep the small pots of herbs you get in the vegetable section of the grocery store. I don't bother re-potting, the deal is to make them as easy to switch out as possible. The window boxes make them look a lot neater and nicer than just having black pots on your windowsill. A herb pot will last at least a month, usually more, which is much better value than the fresh herbs you get in packets. I tend to keep basil, coriander and parsley, which seems to be the ones I use the most. Mint doesn't seem to do so well on the windowsill. I would put this somewhere in the garden where you don't mind it taking over.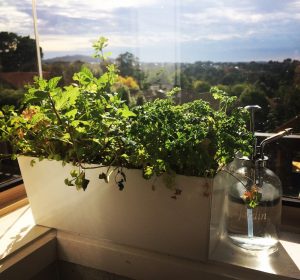 I also like to have asian chilli plants. With young kids I don't use a lot of chillies but it is nice to have one on hand when needed. These plants need to be kept inside as they don't like frost and Canberra sure can be frosty.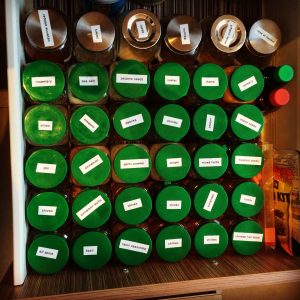 Moving on to dry herbs. Lets start by stating that I have A LOT of spices. Some would say a ridiculous amount. I have a lot of the standard fare but I have also made a few spice mixes myself which I find pretty useful. This includes a pumpkin spice mix, which is generally all round delicious, and a Rasa Al Hanout mix, which is amazing for marinating and barbecuing meats. I haven't quite got around to making my own curry mixes but one day I will get there.
I used to have this plethora of spices mounted on my pantry door but they took up heaps of room and were not really accessible. When we moved I decided to set up a designated spice drawer instead which I love. It did take me awhile to get everything labelled but I am finally finished. Isn't it beautiful?
p.s. Yes, I did purposely buy the same brand of spices so that most of the containers would match. That is how I roll.
p.p.s. Yes, I am slightly sad that they don't completely match.
p.p.s. Yes, I am working towards it. Life well spent 🙂