Hello hungry peoples,
Today we are taking a little trip back to the Kingston Foreshore. As I have mentioned previously there are heaps of new places here, I am slowly but surely working my way through them. I will beat you Kingston Foreshore. I will eat all your foods!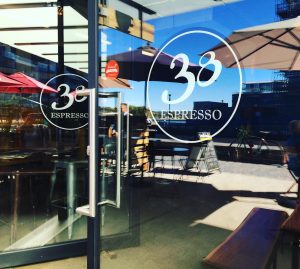 I was in need of a quick lunch and a coffee. This looked like a promising place.  38 Espresso is a cute little espresso bar. It is pretty tiny inside but they have a larger outdoor section, with a lovely view of the lake/construction around Kingston.  The food menu was limited but there were a few points of interest.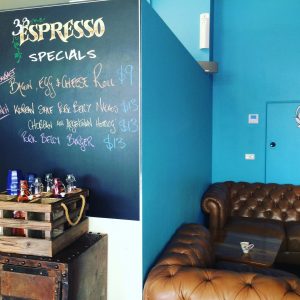 The basics cover toast and granola, with a few simple sandwiches. More interesting features include home made banana bread with a fruit coulis and cream, smashed banana and peanut butter toast with candied pecans and smashed eggs with chimichurri. Sounds delicious, doesn't it? They also have a very tempting specials board. I need to find out what Korean style pulled pork nachos are all about…..or an Argentinian hotdog……or a pork belly burger. Sigh, I am going to have to come back.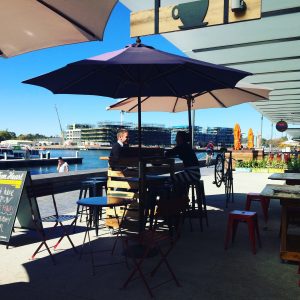 On this visit I wanted something a bit lighter so I had the smashed poached eggs with avocado and a chimmichurri sauce. Chimmichurri is a an Argentinian green sauce used for grilled meat and such, comprising finely-chopped parsley, garlic, oregano, white vinegar and oil. Kinda like a pesto without the cheese. It was pretty tasty with the perfectly poached molten-ish eggs. The toast was a lovely rye sourdough and bless them, they buttered it. The coffee is obviously their focus and they did not disappoint. It actually took longer to get my coffee than the food but they were pretty quick with everything. Overall a really nice lunch for $16. I'll get back to you on the pork nachos. They need to get in my belly!