Hello hungry peoples,
To mark the end of the warm weather I thought I would slip this salad in. After this it will be all roasted meats, slow cooked stews and soups, I promise! Occasionally I try to pretend to be healthy and salad it up. I know….it doesn't sound much like me at all. One of the ways I jazz up a salad is to make a warm version. A warm salad has some cooked component, sometimes a meat, sometimes I just fry me some cheese. It's a salad, so of course it is healthy. It doesn't matter that I fried half a cow or an entire wheel of Brie. Today I am making my Italian lamb salad. Why is it Italian?? I thought of random Italian ingredients and threw them together, that's why. There is a reason that these flavours are so commonly used together. It is because they are freakin amazing!
Firstly lets discuss the meat. You can just fry the meat but I like to use a grill pan for a bit of char. Char on meat is a very good thing. Resting the meat is sadly important. I know people talk a lot about resting meat and it is an annoying choice to make, lukewarm lamb or meat that has had all of the juices run out of it. Just cover it with alfoil to help retain the heat and hope for the best.
The salad ingredients can be really simple or you can put a bit more effort in. Toasting the pine nuts can make them taste nuttier but they are also delicious without it. For the olives I always used to buy seedless kalamata olives because they are less work but I heard somewhere that the flavour is better in whole olives. I have tested this out and I have to agree wholeheartedly. If you have littlies, deseed them so they don't chock and…you know…die. I know it is a pain in the bum but it is worth it. Nothing ruins a dinner like dead kids.
Lastly the dressing. Caramelised balsamic is the dressing of gods. It is sooooo good, it is my go to for any salad. This used to be an artisanal ingredient that could only be purchase at hipster markets but you can now get it at any of the major supermarkets. So much awesome!
Italian Lamb Salad
Prep time: 10 minutes
Cook time: 15 minutes
Total time: 25 minutes
Yield: 4 serves
Calories per serving: 354
Ingredients
1 lamb loin
1/2 cup fresh basil
1 tbsp oregano
5 balls bocconcini
1/4 cup olives
2 tbsp caramelised balsamic vinegar
2 tbsp pinenuts
1 punnetcherry tomatoes
1 bag baby spinach
2 tbsp olive oil
Cooking Directions
Marinate the lamb in some olive oil, oregano, salt and pepper for as long as you can manage.
Put the meat on a medium heat and brown both sides. You can cook this to your taste but I like mine medium rare. There should still be some pink inside and if you press on it, it will feel like the soft flesh between your index finger and thumb.
While the lamb is cooking combine the other ingredients, reserving the tomatoes and the dressing for last.
Once the lamb is cooked let it rest for a few moments before you slice it up.
While the meat is resting give the cherry tomatoes a fry in the pan. Not strictly necessary but I think it makes them taste better. Supermarket tomatoes are not very flavourful.
Place your meat and tomatoes on top of your salad ingredients and drizzle with some caramelised balsamic vinegar.
That's it, enjoy! If you want to make the meal more substantial serve with some crusty sourdough or fried potatoes. Healthiness out the window! Huzzah!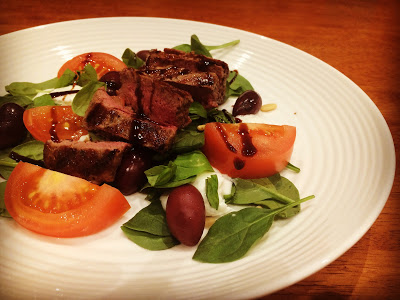 Yes I know the tomatoes in the photo are large and raw. Calm down internet, the recipe is the ideal version. Real life gets in the way man! 
Difficulty: Easy