Hello hungry peoples,
Coming up with a new and exciting pizza topping is hard people. Everything has been done to death. Thus my excitement at coming up with something I have never had anywhere before. I know it sounds weird but it is super dooper delicious. Apple and pork are meant to be together and by keeping the apple slices very thin, they get lovely and crispy.
It could only be better if I could get my hands on some smoked mozzarella. My brain worms think this would be the ultimate but that stuff is hard to find. If you know a place please share it! The first step in this is making the pizza dough. My detailed recipe and method is here but I will give a quick run through here to save you the hassle of another window. Your eternal love and gratitude is thanks enough.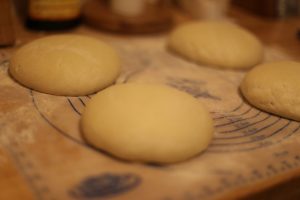 Pork, Fennel and Apple Pizza
Prep time: 60 minutes
Cook time: 5-10 minutes
Total time: 1:15
Yield: 4 serves
Calories per serving: 544
Ingredients
Dough
550g plain flour
200g coarse semolina flour
250g continental flour
1 tbsp salt
1 tsp yeast
1 tsp sugar
3-4 cups warm water
Topping
2 pork and fennel sausages
1 apple
1 ball mozarella
2 tbsp garlic olive oil

Cooking Directions
Put your pizza stone into the oven. Turn the oven onto it's highest setting fan forced. You need a piping hot oven to cook good pizza.
Combine your flours into a bowl and mix.
Make a small well in the flour and put the teaspoon of yeast and sugar in with a bit of warm water to make a wet paste. Leave it for a bit to give the yeast a chance to get going, happily chomping away on the sugar.
Make another separate well in the flour and add the tbsp of salt. Add some warm water to this to help dissolve the salt and mix into the flour.
Add about 3-4 cups of warm water to the flour to make a nice wet dough. This helps the yeast to get going. You can add more flour later to make a more workable dough. Use a dough hook on your mixer (or do some old school kneading) to mix everything together. Leave your dough on the bench for about an hour while you oven heats up.
Next the toppings. Remove the meat from the sausage casings. Make sure you break the meat up into small bits. The sausage cooks quicker, gets crispier and the flavor distribution is better.
Tear the mozzarella up into small chunks. If you leave it in large pieces it will make the pizza soggy. Soggy pizza is super sad.
Quarter the apple. Use a peeler to slice the apple into thin segments. You want the segments to be as thin as possible. If you can be bothered using a mandolin that would probably be better. You will have to find the blades……and then put them in……..and wash them afterwards. Sounds like hassles.
Grab a generous fistful of dough and roll it out nice and thin.
Now that your toppings are ready to go take your pizza stone out of the oven. First drizzle oil on one side of the pizza dough.
Put the dough on the stone, oiled side down. Drizzle some garlic olive oil on top and spread with a spoon.
Put your sausage mince all over the dough, pressing it in slightly. Spread the shredded mozarella on top and then top with the apple slices. You need to work quickly as the whole time the dough will be starting to cook on the piping hot stone.
Pop you pizza into the oven. Everything should be cooked in about 5-10 minutes. Serve with a green salad. That's it, your done!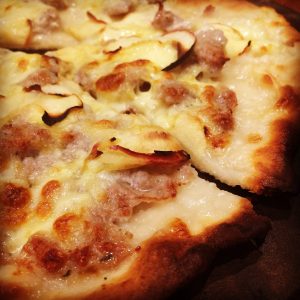 Difficulty: Easy peasy