Hello hungry peoples,
I have been on a bit of a brownie kick lately. It is probably crazy hormones but I have been craving some chocolately goodness. Thankfully I know a brownie expert. My sister-in-law wrote a whole blog devoted to brownies. You can check it out here: Andrea Loves Brownies. She hasn't updated for awhile so I decided to interview her for up to date brownie news.

Andrea my sweet, first the obvious question, why brownies??
I chose brownies because they are difficult to mess up and easy to experiment with. They are robust enough that they will tolerate being made with gluten free flour and can be frozen (I've even sent them in the mail that way). Brownies were originally invented when an American pioneer forgot to add baking powder to her cake and I like that something so delicious came from a mistake.
In your super dooper expert opinion what makes an amazing brownie?
The density and chocolatey-ness of it. Non-chocolate brownies are a travesty. Good brownies are usually made with high quality, dark chocolate, not cocoa. They should be eaten warm, and keep and improve over a few days.
How do you feel about the whole dense and fudgey versus the light and cakey types of brownie?
There are pros and cons to both kinds of brownie and this was the basis of most of my experimenting. I prefer chewy, however I was hoping to make this in a healthy-ish way. I discovered that this was impossible. For a brownie to be chewy, it must have a high sugar to flour ratio. You can't substitute eggs for sugar, although apple sauce will give a similar effect if you're on a diet and/or desperate.
The greatest variation in brownies is whether to use cocoa or chocolate. As I've mentioned, chocolate is better for flavour and texture. I've found a cooking chocolate that's around 50-60% cocoa works best. If you can, get one with a high cocoa butter content like Lindt cooking chocolate. If I'm on a budget, Old Gold 70% works fine. Never use American chocolate, it has a nasty tang to it.
Nuts or no?
Nuts… it depends on what kind of nuts and what kind of brownie. Nuts with a high fat content are better because they blend in a bit. If your brownie is particularly dense and you cook it on a low temperature, it can be nice to put them on top. I use macadamias, cashews or walnuts. They're also nice with chocolate bits and cranberries.
Your favourite all time recipe?
My favourite brownie recipe is also the unhealthiest. Heart attack brownies are flourless and have the most chocolate I've ever seen in a standard size brownie. While the recipe includes two kinds of chopped nuts, I've had them plain and they're amazing.
Heart attack brownie?? We need to get in on this. For your chocolate bingeing pleasure…..Andrea's Heart Attack Brownies!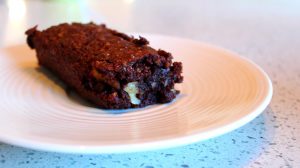 Andrea's Heart Attack Brownies
Prep time: 15 minutes
Cook time: 45 minutes
Total time: 60 minutes
Yield: 6 servings
Calories per serving: 616
Ingredients
225g dark chocolate (1.5 cups)
200g butter
2 tsp vanilla paste
180g caster sugar
3 eggs
150 ground hazelnuts
100g chopped walnuts
Cooking Directions
Preheat oven at 160 degrees C.
Grease a brownie pan with melted butter using a pastry brush.
Line with baking paper. Always make some overhang as you can use these as handles for extracting the brownies.
Melt butter and chocolate together in medium saucepan over low heat.
Mix in the 2 tsp of vanilla and 180g of caster sugar and cool slightly.
Beat in the 3 eggs and the nuts.
Turn into prepared pan and bake for 45 minutes until top is set (the brownies will still be very soft).
Cool completely before turning out, preferably in the fridge.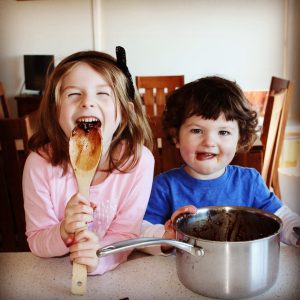 p.s. They are not really that helpful. Mostly they just eat the batter.
Difficulty: Easy-Medium