Hello hungry peoples,
Sometimes the job of a food blogger is hard people. I had to eat ice cream for hours…….all for you of course. I would never do something like that left to my own devices. I hope you appreciate it.
Movenpick
are a famous Swiss ice-cream company that have been kicking around since 1948. They have over 400 stores in 40 different countries. That is a lot of ice cream people. For a while the ice cream was only available for restaurant sales, and even when it became more widely available you have to visit a speciality store to get it. Luckily for us Movenpick has now opened on the Kingston Foreshore. You can now fill you little tummies with all the ice cream it can take.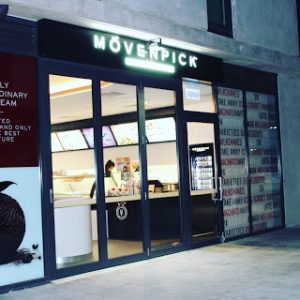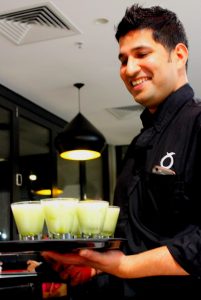 Sid Mahabal and Aneeta Singh, the lovely proprietors, have always been a huge fan of Movenpick and one gets the sense that they are realising a dream. They fought hard to achieve it though. Much like IKEA, Sid had to lobby for Movenpick to even consider opening in Canberra. We should all reward his hard work by eating much ice cream. "But it is Winter!" I hear you say. Firstly the ice cream is amazing. Lovely bold flavours made from completely fresh ingredients. No frozen berries here, thank you. The ice cream is also wonderfully creamy with teeny tiny ice crystals producing great mouth feel.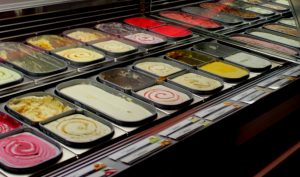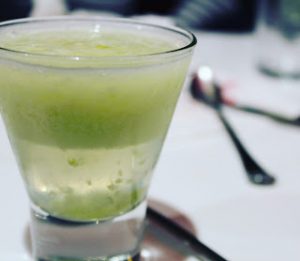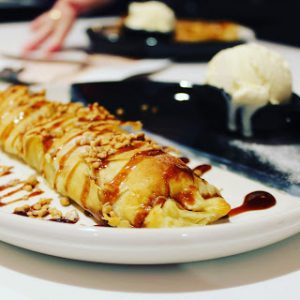 Movenpick keep a tight reign on their ice cream production. All the ice cream is still made in a factory in Switzerland, using Swiss milk. Sid was devastated when he discovered his young son has dairy allergies. Imagine being surrounded by ice cream and not being able to eat it? Luckily this has a happy ending as his son seems to be fine with the Swiss milk and can happily eat his way through the store. The store generally carries 24 flavours, including sorbets. The Swiss Chocolate ice cream is a worldwide favourite. In Canberra we seem to be partial to the Cinnamon, Maple Walnut and Brownie flavours. I can speak from experience that the maple walnut ice cream is sensational. The recipes for the ice creams are mostly from the 60's so they have certainly stood the test of time.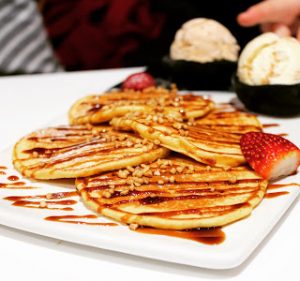 If you need something warm in the cold there is much more than ice cream on offer. Although if you want both, there is plenty of dishes with a generous serving of ice cream on the side. Have all the things! On my visit we worked our way through a warm menu starting with Apple Strudel. This is a classic dish that can be soggy if done poorly. I can report that the strudel was lovely and crispy, drizzled with a caramel sauce and caramelised nuts.  Next we had berry waffles, made fresh on site using fresh berries. It is pretty typical for cafes to serve pre-made defrosted waffles and it always lends a certain staleness to the texture. These were obviously made to order, being both fluffy, light and warm on the inside and lovely and crispy on the outside. A berry sauce drizzled on top reminded me of a jam, being very rich and sweet. The raspberry sorbet on the side was lovely and I can pretend it is healthy because it is 50% fruit. We just won't worry about the other 50.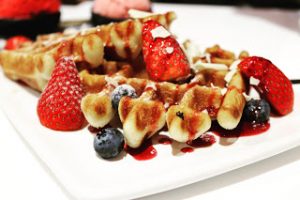 The Maple Walnut Pancakes are big fluffy american style pancakes served with the maple walnut ice cream and drizzled with maple syrup. Do I need to tell you that this is a very good combination? No??….Let's move on. A chocolate fondant was appropriately rich and molten with a hot fudge sauce and finished with a fresh strawberry. Lastly we waddled our way through the biggest fondue spread I have ever seen. Of course there were the usual suspects; marshmallows, fresh strawberries and banana but there were also a few surprises. The crumbled up waffle was amazing dipped in chocolate. There were also broken up macaron shells, something I have not seen before. The texture of the light macaron with the melted chocolate was divine. The caramelised nuts also provided a wonderful crunch. It….was…..so…..good!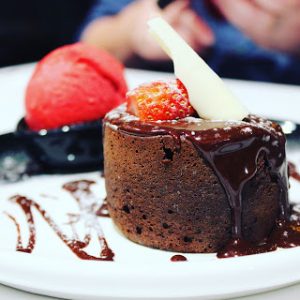 At this stage of the proceedings buttons needed to be undone. Not only had I eaten all of these things, we had also been given a sample of the drinks menu. A starter of a blueberry cheesecake smoothie was delicious. The sparkling lime sorbet fizz was one of my favourites of the night and multiple people swooned over the lime sorbet, stating it to be the best. Everything was delicious and even writing this makes me wistful for more ice cream. Thankfully the children have not yet discovered my ice cream outing without them but I will definitely be taking them there soon. For them of course…..not for me….because you must make sacrifices as a parent. Parenting win!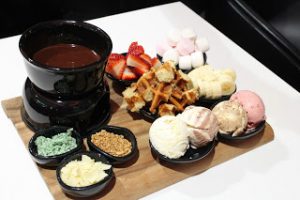 p.s. In the end I did take the children for an outing. We ended up coming home with two tubs of ice cream. The kids were very happy indeed.