Hello hungry peoples,
I recently had to pop up to Sydney. When this happens I rarely have time to do much but I usually get to have a nice lunch out. For this trip I decided to visit Bill's. Bill Granger, for my overseas readers, is a famous self taught chef in Australia. Some call him the Australian Jamie Oliver. I don't see it personally but he does have a lovely smile and enjoys long walks on the beach and kittens. OK, so I made that last bit up but lets face it, everyone loves kittens.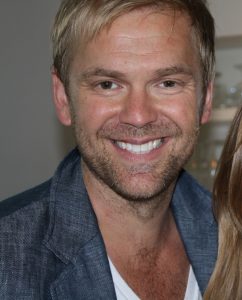 I visited his restaurant in Darlinghurst, which is actually his first place. Bill Granger holy land! The restaurant is gorgeous, filled with light (much like a church) so my analogy holds up. His restaurant became noted for it's amazing scrambled eggs and there is a reason for this. They are freakin amazing! My friend Alys first introduced me to Bill's eggs. Being one of my brunch peeps she knows her eggs. She made me walk across Sydney to get there but promised the pay off would be huge. She was right and I am eternally in her debt.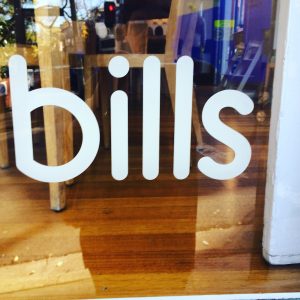 The eggs epitomise the style of Bill. He makes simple food but does it very well. When I went
there recently I had a lovely fried calamari squid w
ith a green paw paw salad. The salad was very lightly dressed, with no hint of the usual fish sauce. Flavour came more from the big bunches of basil and coriander on the plate. The batter on the calamari was also kept light, with the calamari nice and tender. All round very pleasant and something I could probably reproduce at home (if I could get anyone else in my household to eat paw paw salad).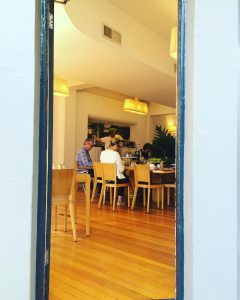 Anyway, back to important egg business! After my first visit to Bill's I scoured the internet to try to discover how he makes his amazing eggs. The secret ingredient – cream. It is always cream…or butter…or salt.  You can now have the most amazing scrambled eggs without having to trek across Sydney. You can thank me later, preferably with cake.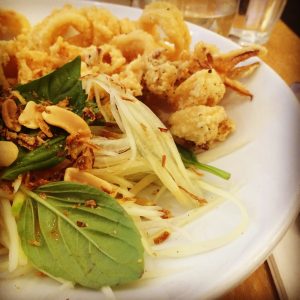 Bill's Scrambled Eggs
Prep time: 5 minutes
Cook time: 10 minutes
Total time: 15 minutes
Yield: 1 serve
Calories per serving: 248
Ingredients
Cooking Directions
Put a pan (preferably non-stick) on a medium heat.
Whisk your two eggs into 1/3 cup of cream until well incorporated. You can cut the cream down and replace some with milk but the end result will not be as amazing.
Put a tbsp of butter in your pan. The butter should melt and be bubbly when the pan is at the right temperature.
Add your eggs. They should sizzle and bubble. After 20 seconds gently use your egg flip to pull the edges of your eggs inwards, bunching up the curds. This helps to make your eggs fluffier.
Once everything is looking pretty cooked, flip half the eggs on top of the other and remove from the pan. This helps to cook the eggs that were sitting on top without over cooking the eggs underneath. You should have beautifully fluffy scrambled eggs. Make sure to be generous with salt. Salty eggs are delicious.
That's it, you're done!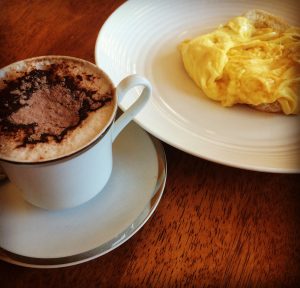 Difficulty: Easy peasy