Hello hungry peoples,
I was recently welcomed into the home of Sharda and her family to experience a true authentic indian feast. This is a significantly different premise to what we experience in many Indian restaurants, which have some seriously westernised currys. The original definition of a curry in Britain was a gravy with a bit of curry powder thrown in. This familiar ingredient is a serious oversimplification of the complex spice blends used in Indian cooking. India is the motherland of the authentic curry, which contains significantly different flavour profiles, as well as many more interesting vegetarian dishes compared to westernised Indian food. Of course India is also the homeland of many of the spices that are now used worldwide in all kinds of food cultures. They have made all of our food tastier!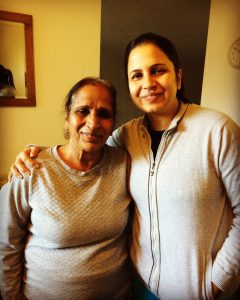 Sharda has been cooking Indian food for a lifetime. Originally she wanted to be a doctor but at the time she was not allowed to go to the co-ed Medical School. Instead she devoted her life to teaching others the art of cooking as a home economics teacher. This is a smart woman who has applied her brain power to refining and perfecting her cooking skills. She retired in 2005 but missed the joy of preparing food for others. At the age of 77 she is back doing what she loves. This is a truly indomitable woman.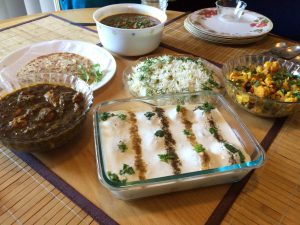 Sharda specialises in Indian cuisine and impressively can cook any of the numerous regional variations across India. Much of this variety is due to geography, with each region using local spices, herbs, vegetables and fruits. Regions include Punjabi, Bengali, Rajasthani, Goan, Gujarati, and Maharashtrian, just to name a few. The north is influenced by the neighbouring Middle East and Central Asia and is known for its Tandoori and Korma dishes. The South is famous for its hot and spicy foods. The East specialises in chilli curries. The West is coastal and uses more coconut and seafood. Central India is a delicious hot pot of all of it. Of course India also has a colonial history, and while this has its darker side, it does produce an interesting melding of food cultures and flavours.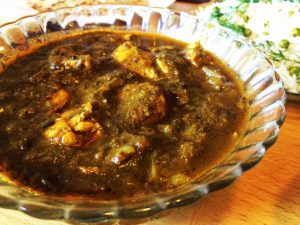 In India preparing and eating food is a community affair. Neighbours and family will gather together on the flimsiest of excuses, preparing veritable feasts for everyone to enjoy. Sharda, her sisters and cousins would gather to cook and spend hours together in the kitchen. An Indian table always has multiple tastes and elements and it is considered a poor table if only one thing is on offer. Sharda's table is always bursting with food and one of her great joys in life is to see people relishing the things she makes.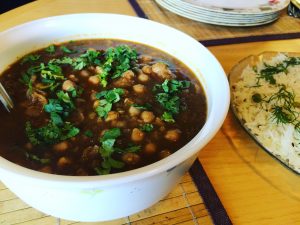 Sharda specialises in Indian cooking but also prides herself on being able to cook anything. Her philosophy with Indian cooking is to take simple ingredients and make them into something special. This extends to making her own spice blends and pastes. She even makes her own fresh paneer which she uses in her favourite dish "Shahi" (Butter Paneer). A rich butter sauce with homemade cheese sounds delectable. Making paneer is a straightforward affair, using just milk and vinegar but it is hard with pasteurised milk to get the best result. With her wealth of experience though I imagine Sharda's paneer dishes really will be something. Home-made paneer has a much softer and forgiving texture compared to what is on offer in stores. The multicultural nature of food also greatly appeals to her and she loves fusing her cooking with new ingredients and flavours. Some of her current favourites include couscous and quinoa, as well as all kinds of cheese. She is experimenting with creating Indian cous cous salads, which sounds like a brilliant idea to me as cous cous can tend towards bland without some extra oomph.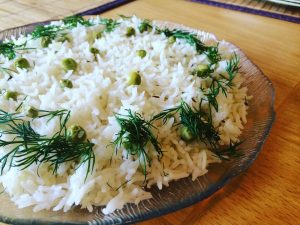 On the day I visited I shared a table with HomeTaste entrepreneur Teena, Sharda and her lovely daughter-in-law. Sharda had been cooking all morning and the table was quickly filled with all kinds of deliciousness. There were a lot of vegetarian options, one of Sharda's specialties. Quite a few of the dishes I have never seen before. Chana Masala is a masala gravy curry with chickpeas, onion, garlic, tomatoes, ginger and some spice, finished with coriander. It was wonderfully heartening and filling but wasn't heavy, lacking oil or cream. A vegetable curry with turmeric was a parade of bright colours containing carrots, peas, beans, potatoes, cauliflower and some spice. The vegetables had a lovely texture, not being too soggy or overcooked. These main dishes were rounded out by a meaty Spinach "Saag" Chicken Curry. The spinach sauce is very simple, with just a bit of butter and spice. The absence of cream made the dish taste wonderfully light and the dish was exceptionally well seasoned.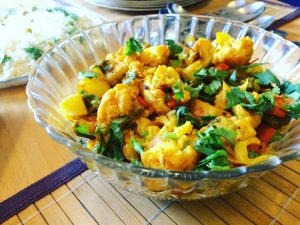 Moving onto sides. Lentil dumplings "Dahi Wada" in a homemade yoghurt sauce was wonderfully cooling. The dumplings had a meltingly soft interior with a slight deep fried crust. Sharna fries these balls and then quickly rinses them under water so that any excess oil is removed. She adds pepper and cumin stripes on top of the yoghurt sauce, which gives an interesting flavour contrast as you consume the dish.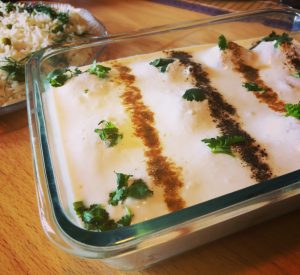 Our sides of basmati rice contained peas and cumin seeds, forming "Matar Pulao", finished with some fresh dill. The scent of the dill was invigorating. The cauliflower roti on offer was a stand out. An unleavened wheat flour pan fried bread is filled with cauliflower and a hint of spice. The cauliflower forms a fluffy texture on the inside which I enjoyed, while the outside was nicely crispy. Roti is the bread of choice for Indians, much thinner than the naan we are used to. Naan is usually reserved for special occasions and roti is the go to for day to day meals. If the roti is like this I would be completely happy with this arrangement.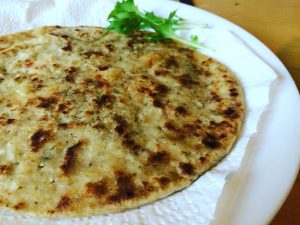 Lastly we had a green chutney on the side, an essential component to an Indian feast. The chutney was made from mint, coriander and spices. India has a large variety of chutneys and can run the gamut of savoury to sweet. Essentially if it's a fruit, spice, or herb, you can make a chutney with it. Authentic chutneys do tend to be more runny compared to their western counterparts. Personally I loved the texture and the bright green colour.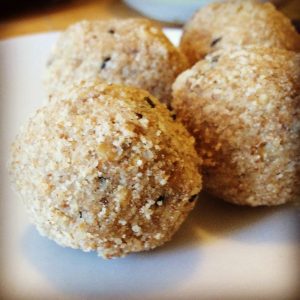 Finally to finish off we had two Indian desserts. Laddoo are lovely little balls of ground up almonds, cashews, sultanas and seeds, with a bit of sugar. They kind of reminded me of a protein ball. The texture was crazy. They hold together fine until you bite into them and then they dissolve in your mouth. The other dish, Jelabi, was something to behold. It is made by deep-frying a batter in circular shapes, which are then soaked in sugar syrup, kind of like a sugar syrup funnel cake. It also has the most amazing lurid red colour.  The texture was jarring. The interior was somewhat chewy with a sugary crackly coating. Crazy but fun.
Overall I have never quite had an Indian spread like this. Sharda makes real home style Indian cooking and it was a pleasure to behold. Her pride in her skill is entirely justified. You can order Sharda's food from HomeTaste here.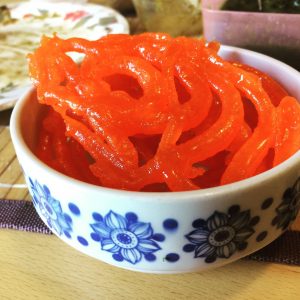 The author dined at the invitation of HomeTaste. All opinions stated are her own.