Hello hungry peoples,
I was recently welcomed into the
Claypot Chef
by Chef Udaya and his lovely wife Chushani, where we literally talked and ate for hours on end. Prior research on the internet had uncovered a lot of love for this place. People rave about it and there is a devoted following. My study of the menu also revealed a plethora dishes I have never tried before so I arrived with a fair degree of excitement.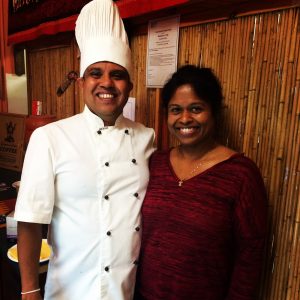 Chef Udaya is passionate about the food he makes, bringing traditional Sri Lankan cuisine to Canberra. There are not many Sri Lankan restaurants around so this was the first time I have had Sri Lankan food and believe me, the Claypot Chef is the right place for this kind of education. Sri Lanka, like many colonial countries, has a diverse and rich food culture influenced by the Portugese, Dutch and British.
Udaya grew up in a household surrounded by amazing cooks and they instilled a love and passion for traditional Sri Lankan food. So much so that upon moving to Canberra he left his career as a lawyer and retrained as a chef to open his own restaurant. The resultant Claypot Chef in Farrer is a family affair with a lot of heart, and Udaya's wife Chushami can often be found helping out. Udaya and Chushami provide a warm welcome to all comers and regular customers will assure you "Udaya will look after you, he looks after everyone". It warmed the cold cockles of my heart. Both Udaya and his wife are also active in the Canberra community, providing a hub for the small Sri Lankan population, as well as catering for community and charity events.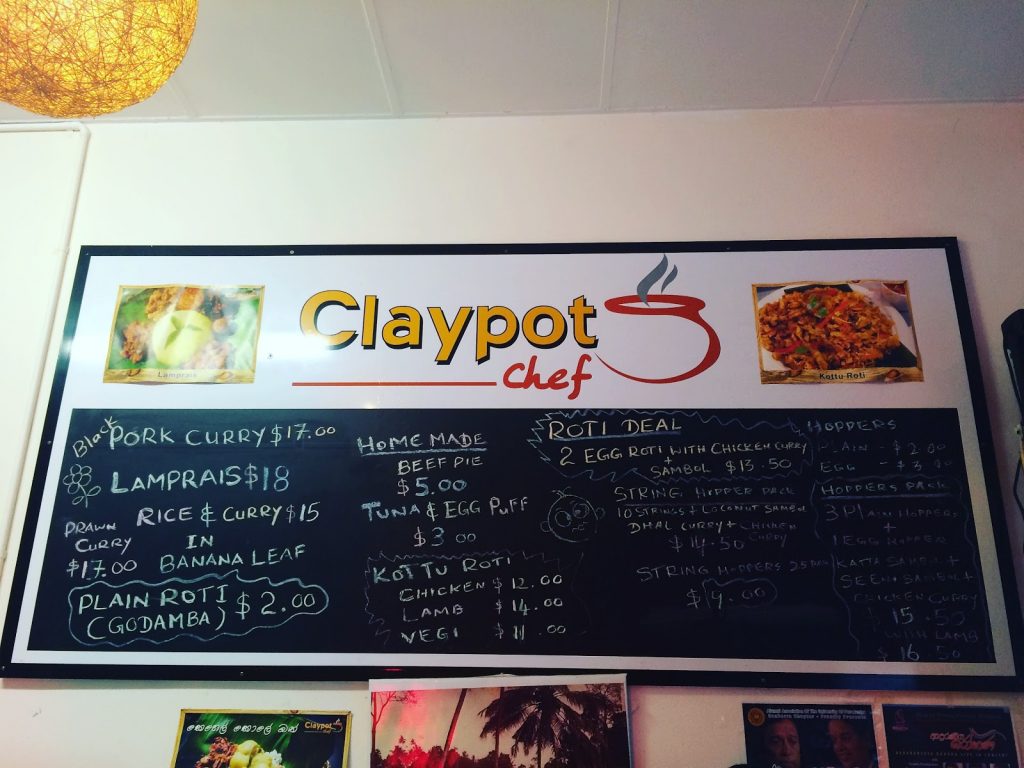 Let's get down to the business of food. The "Claypot" in the name refers to the traditional method for cooking Sri Lankan food. Originally these clay pots were used in wood fires, infusing the pots with further smokiness. The clay pot captures and evenly distributes the heat allowing flavours to develop slowly, melding and fusing. What this produces are slow cooked dishes with beautiful, delicate and complex flavours. Banana leaves also feature heavily in Sri Lankan food. These grow everywhere and it is literally a case of picking a leaf from the tree overhanging your house, to either bake or transport your delicious parcels of food. It is so intrinsically linked to food in their culture that even just the smell of banana trees makes Sri Lankans hungry. The garden to kitchen connection is also incredibly important in rural Sri Lanka. In regards to capturing this cuisine I can't sum up better than the man himself. As Uduya says "I make traditional Sri Lankan food, aiming for perfection".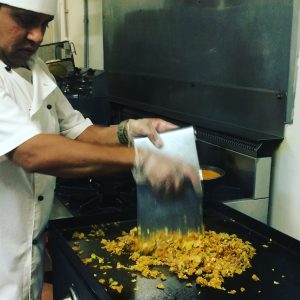 Chef Udaya offers a taste of many of the elements of Sri Lankan food. Sri Lankans respect a good curry and there is a huge amount of variety. Sri Lankan Kings would sit at feasts with up to 35 different dishes. There are a number of classic Sri Lankan dishes on the menu and Chef Udaya is constantly adding to them. I get the feeling that if he could he would have twice as many dishes on offer.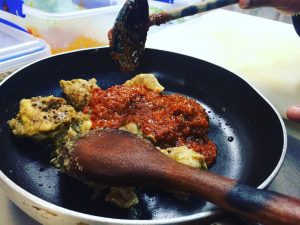 He leaves nothing to chance. He sources the best and freshest ingredients. He makes his own spice blends and pastes, which he then toasts, producing dark complex flavours. All the coconut he uses is fresh, laboriously carving the flesh out of each coconut, sometimes soaking it to produce milks and creams. He even grows his own curry leaves to ensure their quality. There is great care and dedication in all that he makes and it shines through in the food.
One of the first things we tried was a "nibble". These are cute little deep fried meatballs and relate to the European influence on Sri Lankan food. I expected it to be similar to an American meatball dipped in batter but it was more like a fluffy dumpling with a light tomato sauce on the side. It was also piping hot, with a thin fried crust and no hint of oil. Very tasty.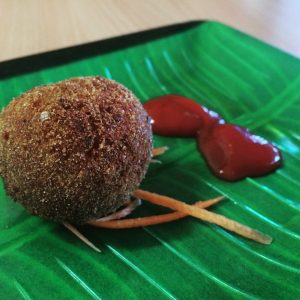 Next we ventured into the realm of hoppers. Hoppers are a classic Sri Lankan street food generally eaten for breakfast or dinner. They comprise a super thin and crispy pancake, sometimes with the addition of an egg in the middle. Udaya took me through the process of making these. They are made individually and quite labour intensive. First a special shaped bowl pan is heated until piping hot. You know it is hot enough when you place the pot near your head and you can feel the heat coming off it. A coconut milk and rice flour batter has been prepared and must sit overnight. This is because the rice flour needs time to absorb the liquid or you will end up with floury pancakes. Udaya adds a small amount of batter to the pan, giving it a quick swish around creating a very thin coating. The batter is delicate and very bubbly due to the presence of yeast, giving it a light and fluffy texture. Once it is cooked, the pancake it flipped onto the counter, forming a perfect bowl for whatever tasty filling you choose. If an egg is used, it is added about half-way through the cook and turns out perfectly, with cooked whites and a still runny yolk. With a serve of caramelised onion sambol (Seeni Sambol) this is the most amazing breakfast ever!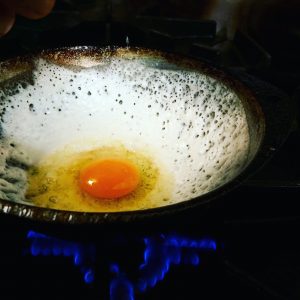 The hoppers formed a side for a classic Sri Lankan Chicken Curry. This was a thing of beauty. Light and creamy and not at all fatty. It also had a hint of sweetness and heat from Chef Udaya's secret spice blend.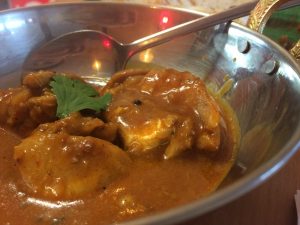 Another classic Sri Lankan dish is Kotu. This is a popular Dutch influenced street food prepared on a griddle. Roti, eggs and vegetables are sliced and diced on the grill, finished off with a curry of your choice (lamb, chicken, vegetables or cheese). The roti adds a savoury more-ishness, while the curry adds depth of flavour. No rice on the side is necessary. This is a whole meal in itself.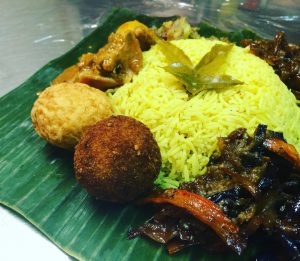 Lastly we had Chef Udaya's and Chusani's favourite dish; a black pork curry. This was a dark and complex curry with a bit of heat. The slow cooking makes the pork meltingly tender. This was flavoured with a special spice blend contrived by Chef Udaya. It was served with a side of string hoppers. These are entirely different from hoppers, even though the name suggests they are related. They are delicate handmade noodles which are steamed until cooked. Again a very labour intensive affair as only small batches are pressed and steamed at a time.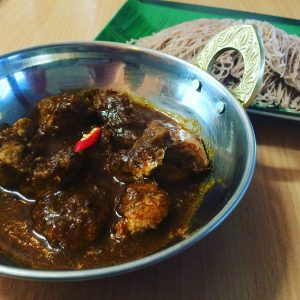 At this stage I was achingly full. I had periodically been given dessert through the proceedings as well. I tried a number of Sri Lankan toffees, one flavoured with coconut and a sweet condensed milk toffee, both very sweet and interesting, significantly different from western lollies. Udaya makes many of his own sweets, particularly around April associated with the Sinhala and Tamil New Year celebration. He also offered a Sri Lankan sponge cake, which my children adored due to its bright white and pink layers.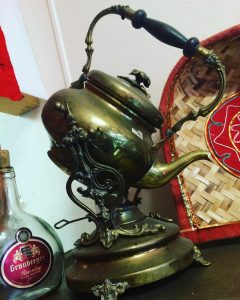 The food wasn't finished here though. Udaya sent me home with a care package of Lamprais.   This is a classic twice cooked Sri Lankan dish representative of its melding of cultures. Rice is flavoured with stock, accompanied by meatballs, your choice of curry, seeni sambol and a deep fried egg. The deep fried boiled egg was crazy and something I have never seen before.  The components are wrapped in a banana leaf and baked in an oven, infusing it with the flavours of the leaf. This is the perfect take-away dish as you can finish it off in the oven at home. I also liked having such complex different tastes all together. Not the kind of thing I could easily replicate at home.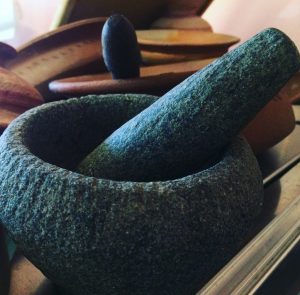 Aside from these classic dishes Chef Udaya is still experimenting. He has started playing around with fusion, melding asian and australian ingredients into these classical dishes to provide new and innovative flavours. The food he offers is also very healthy. These are not the greasy cream laden curries that many of us are familiar with. They are light and flavourful, with any creaminess coming from the fresh coconut he uses. He has expanded his technique to Indian dishes as well, producing one of the best butter chicken in Canberra. If you are looking to capture the spirit of Sri Lankan cooking, Chef Udaya's cooking is a magnificent place to start.
 Claypot Chef
Open: 4-8pm Tues-Thurs, 10am-8pm Fri-Sun, Closed Mondays
2 Farrer Pl, Farrer ACT 2607
(02) 6286 8081
The author dined at the invitation of Claypot Chef. All opinions stated are her own.