Hello hungry peoples,
I recently attended a Cooking Circle event, specialising in Bush Tucker. Normally these events are hosted in someones home and we cook one of the hosts recipes. This event was a bit different. First it was a large crowd of around 20 people and it was hosted at Foodish, the cooking school associated with the Belconnen markets. I must say I was a fan of the locale, especially as I could get some groceries afterwards. The theme of the day was Bush Tucker and we arrived to an indoor forest of edible food. There must have been at least 30 different plants in front of us. There were even a few plants I recognised from my garden that I didn't know were edible. What a wasted opportunity for eating.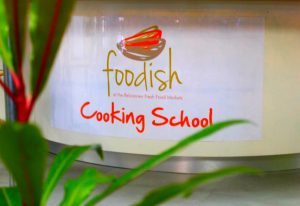 The plants are the beloved children of Narelle Happ, a garden designer and horticulturalist who specialises in native gardens. She is obviously passionate about what she does and sure does know a heck of a lot. We started by snacking on native dukkah with sourdough, comprising ground bush tomato, lemon myrtle, pepperleaf and aniseed myrtle. It was delicious. This was paired with a lovely lemon myrtle tea, which kind of reminded me of chamomile in that it felt warming and restorative. This is something you can easily reproduce at home if you have a lemon myrtle bush. All you have to do is dry the leaves and then slightly crush them. How simple is that!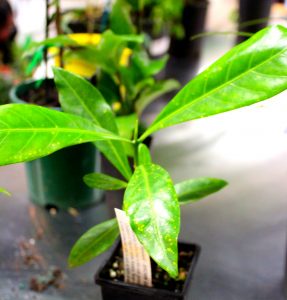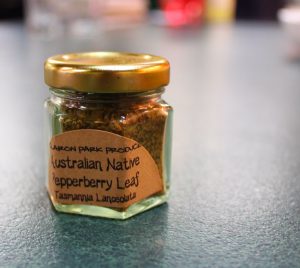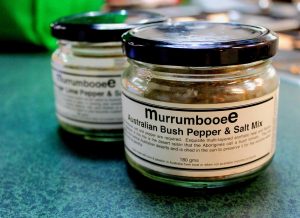 We began with running through all of the different plants on offer and what kind of growing conditions they prefer. I got really excited, planning how I could rip out all of my garden and replant everything to be consumable. Then I remembered that I hate gardening and I am a particularly gifted plant killer. Hopefully soon we will be able to enjoy some of our native food stuffs from the supermarket as I sadly doubt I'll be harvesting my own anytime soon. I was amazed by the variety available though, and while ingredients like wattle seed are now pretty familiar, there were lots of things I had never heard of before. I really didn't think there were that many native berries.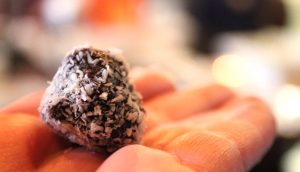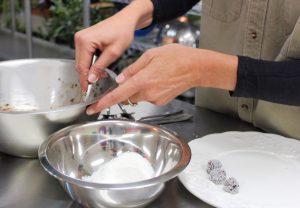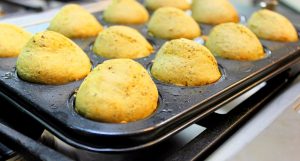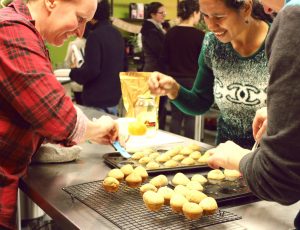 To conduct a thorough investigation into Bush Tucker, one must sample it and we created a series of dishes showcasing particular ingredients. We made native strawberry chocolate bliss balls, orange and wattle seed muffins with an aniseed myrtle dressing and lastly, my favourite, a warrigal greens and macadamia nut pesto. The warrigal greens have a bit of bite to them which gives the pesto a real kick. The original recipe is from the Garigal Magazine and if you get your hands on some of the greens you should definitely make this.

Warrigal Greens Pesto
Prep time: 10 minutes
Cook time: 5 minutes
Total time: 15 minutes
Yield: 4 serves
Calories per serving: 392

Ingredients
50g macadamia nuts
250g warrigal greens
125ml macadamia oil
100g parmesan
Handfull basil
2 garlic cloves

Cooking Directions
Wash and blanch the warrigal greens leaves. This makes them less acidic. Don't use the stalks as these can be stringy.
Toast the macadamia nuts. This gives them an even nuttier flavour.
Squeeze the excess water out.
Put all of the ingredients into a food processor or blender and mix.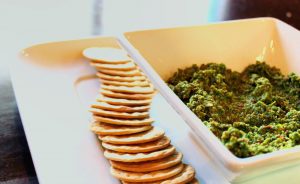 That's it, your done. You can use this the same way you would use an Italian pesto. On crackers, with a poached egg on toast, on some pasta, it is all good.
Information on Cooking Circle events can be found here. There are events like this one held monthly or you can attend a weekly Wednesday lunch at at Currie Crescent Community Centre.
p.s. You can find further information about Narelle's business here. You can even hire her to do all the hard work for you and create a native edible garden.
p.p.s. There is also a winery in Mogo, Elysium Wines, which uses native plants and fruits to make wine. I recommend visiting. All the wine is delicious.