Hello hungry peoples,
I recently visited the coast and my general rule is if I can smell the salt air, put some seafood in there. By "in there" I mean my tummy. Don't taint my blog with your dirty mind! Canberra is sadly lacking in fresh seafood. So is much of the coast, since nearly all of the catch gets sent up to the Sydney markets. There are a few little havens though, which get their catch from the neighbourhood fishermen direct. One of my favourite is the Innes Boatshed at Batemans Bay, a historic family owned business. The current owner is the third generation to run the Boatshed and was once in the fisheries business himself. He is now sourcing his fish from his old coworkers. It certainly helps to have contacts in the business.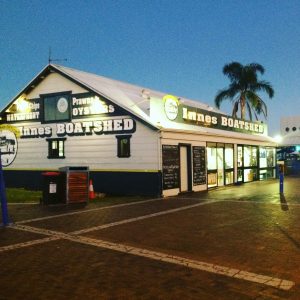 The Boatshed also has a great location. Batemans Bay is on the way to most of the eastern coast for Canberrans, which makes it a convenient stop. It is also next to a park, overlooking where the Clyde River joins the sea. The Clyde River actually contains oyster farms so you can literally eat oysters looking out onto the river they came from. The Boatshed has taken advantage of this, having a cute little veranda looking straight onto the water. The kids can see stingrays and fish swimming around while you have some nosh. There is also an indoor area if the weather isn't so great.
In regards to food, of course there is fish and chips. They usually have a selection of freshly caught fish to choose from. Whether you have them battered or grilled they are delicious. In fact all of the food that is fried is done so in animal fat, making it extra crispy and piping hot. There is also fresh prawns, calamari and oysters. I can report that the Clyde River oysters are magnificent. I also like the fact that they have a salad which they serve with the fish and chips. I love fried food but I need some greens to offset all of the fat.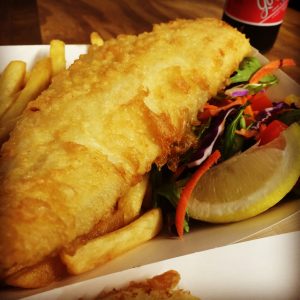 Lastly if you are after a boating adventure, Merinda River cruises departs daily at 11 am from the Boatshed. These cruises go for three hours and you get to enjoy fish and chips sourced from the Boatshed. There is also a 30 minute stopover in Nelligen. Go to Bateman's Bay, eat some fried food, tell them I sent you. Maybe I'll get a free potato scallop. Worth it!