Hello hungry peoples,
Today we are going to discuss one of my go to family/entertaining dishes. It requires time but very little skill, which is my kind of cooking. I love throwing everything into the oven and just cooking the heck out of it. Refined and delicate cooking I struggle with. If you have eaten at my house (and not vegetarian) you would have had this at least once as I make it all the freakin time. Christmas….birthdays….this meal is the solution to the problem you didn't know you had.
I have decided to make this recipe into a series. First I'll show you how to make the roast. Then for a few weeks I'll run through some side dishes and lastly I'll go through some recipes which use the leftover roast. I am a big fan of planning my weekly menu to use all of my leftovers as shortcuts for later meals and this should give your family at least two large and amazing dinners.
This recipe itself was sourced from a long defunct daytime cooking show. About 18 years ago I was stuck at home with a cold or the flu or something and since this was the time before Netflix, I was stuck watching daytime TV. This dish looked so delicious that even in my sickened state I jotted everything down and have cherished it ever since. Slow cooked Greek lamb is a special kind of joy. The meat should be so tender it will fall apart and the vegetables form a rich unctuous sauce. All kinds of delicious and all in one pan. Sweet!
Lamb shoulder (still on the bone)  is by far the superior cut for this kind of cooking. The balance of meat and fat cook down really well, and the shoulder is one of the most flavorful cuts. Of course unless you go to the butcher it can be hard to source this. A leg of lamb will work well but, depending on the toughness of the leg, will take longer to get to the same fall apart moistness. I sometimes work around this by slicing the roasted meat and letting it soak in the sauce a bit. Probably not kosher but it tastes better. Priorities people! The leg will also provide more meat so it depends on how large a hungry horde you have.
I have served this dish with roast potatoes but it is quite rich and goes better with mashed potatoes or polenta. My all time favourite combination is duchess potatoes.  and pistachio green beans. Next week I'll run through the green beans recipe.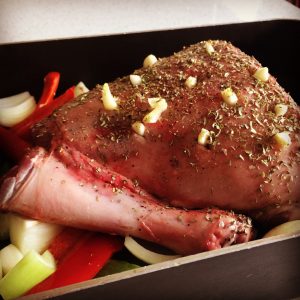 Slow Cooked Greek Roast
Prep time: 20 minutes
Cook time: 5 hours
Total time: 5:20
Yield: 8 serves
Ingredients
1 lamb shoulder
2 capsicum
2 celery sticks
2 tbsp oregano
1 tbsp salt
1 tbsp pepper
6 garlic cloves
700g jar of passata
1 onion
2 cups chicken stock
Cooking Directions
Preheat your oven to 180 degrees C.
The first thing to do is form a bed of vegetables for the meat to roast on. Peel and chop the 2 onions into large chunks and layer them on a roasting pan. Chop your 2 capsicums and 2 sticks of celery up and also add to the pan. You want the vegetables to stay pretty large so that the meat can sit on top and not touch the pan. This stops the roast from sitting in its juices and sauce, braising rather than roasting. Add a few garlic cloves to the vegetable layer.
Moving onto the meat. Place your lamb shoulder on top of your vegetables. Pierce the meat and stuff the cuts with slices of garlic. Rub dried oregano and salt and pepper into the meat. Place some alfoil on top and put the baking pan into the oven for 60 minutes. This first part caramelises the vegetables, which will make for a much tastier sauce.
After 60 minutes, the vegetables should be looking roasted and partly caramelised. Add the two cups of chicken stock and turn the oven down to 150 degrees C. Leave everything chugging along for about 4 hours.
An hour before serving add the passata to the pan and take the alfoil off. After the hour, remove the lamb from the oven and carve. If everything has gone well it should fall apart pretty easily and the vegetables have made a rich tomato sauce. Mix the meat and sauce together and serve with whatever side dish you have made.

The final dish – slow roasted Greek roast with duchess potatoes and green beans

Difficulty: Easy peasy