Hello hungry peoples,
Gungahlin is a great place for a foody. There is a plethora of Asian, Indian and Italian eateries across our broad expanse. It is unusual though for a new place to open up that exposes us to an entirely different cuisine. Luckily for us we now have our own local Fillipino Restaurant. No more traipsing down to Weston for us, which I think we can all agree is a fabulous thing. Better yet a new food home delivery service will bring it right to your door.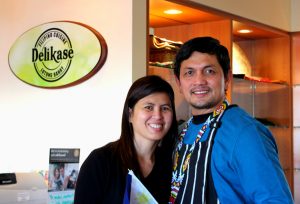 Delikase Filipino Cuisine
is the brainchild of Medwin and Diwani, located in Gold Creek. The name "Delikase" is a play on "delicacy", and the logo includes the phrase "Lutong Bahay" which literally means 'home cooked". This is a perfect description of the food on offer, beautiful home cooked Filipino dishes which offer both comfort, as well as amazing depth of flavour. For Medwin it all began with a perfectly spit roast Filipino style pork "Lechon", the national dish of the Philippines. It was his show stopping dish, used to impress family and friends. Then word began to spread. Soon he was catering for functions and the hungry throng could not get enough. He started cooking other traditional dishes, broadening his culinary horizons and he now has an extensive menu of beautifully executed traditional Filipino dishes.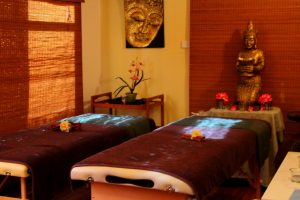 The cafe is a family affair. Medwin rules the kitchen, his lovely wife Diwani (or Kotch to her friends) provides friendly service out the front. Kotch's brother, sister-in-law and Medwin's niece also contribute to this venture. The business interestingly has a health spa attached to it, the
Bliss Haven Day Spa.
You can literally get a massage and a good meal. The business is also clearly a cultural hub for many local Filipinos, providing the home style dishes that they crave.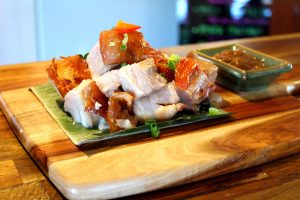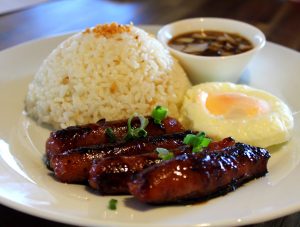 So let's discuss the food. The food served by Medwin is a comprehensive culinary education, serving dishes that are cultural icons, as well as incredibly delicious. In the Philippines there is a clear focus on breakfast and lunch, which are the largest meals of the day. Dinner is typically a smaller meal. Medwin has worked around this custom by providing many of the traditional breakfast dishes at any time of the day. Everyone loves breakfast for dinner, especially when they are punchy dishes such as Filipino pork sausages, garlic fried rice and a fried egg.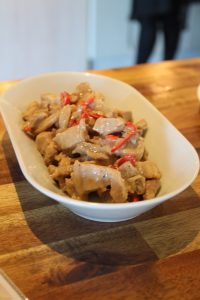 Going back to the beginning of Medwin's food journey, of course there is a whole roasted pig on offer. This is served with a traditional Filipino "Mang Tomas All Purpose Sauce", whose sweet spiciness provides a wonderful counterpoint to the fatty and rich pork. The pork is marinated and stuffed, slowly roasting for hours. Pork is well respected and features heavily in Filipino cooking. There is a slow cooked coconut infused stew, the "Bicol Express", which is topped with lots of chilli and one of the spiciest dishes on offer. Another intense dish is the Dinuguan, a stew made of diced pork and pig's blood. This has a thick, black pudding-esk quality and is not for the faint hearted. Sourness is a treasured element in Filipino cooking and the "Sinigang" sour pork soup is a good representative. Pork and noodles, either thick (Pancit Canton Guisado) or thin (Pancit Bihon) are a nod to the Asian influence on the food culture. It is also available with chicken or prawn.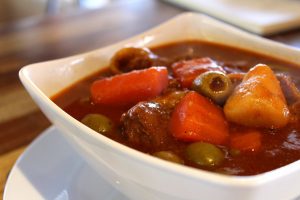 Beef also features on the menu. The Caldereta is a hearty traditional Filipino beef stew slow cooked with green olives, capsicum, carrots, peas and tomatoes. It is wonderfully warming with just a bit of kick. The Tapsilog Special Beef is a marinated barbequed beef jerky, so popular in the Philippines there are 24-hour eateries devoted to this dish. Like the sausages, it is served with garlic fried rice and a fried egg. Kare Kare is a slow cooked oxtail stew with a thick peanut sauce. A fried milkfish is a nod to the seafood that features heavily in Filipino cooking. It is after all an island archipelago.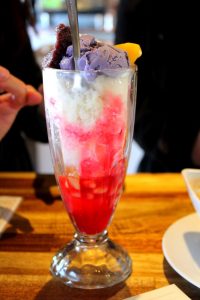 Lastly if you are not bursting by this point there is a selection of desserts. One of my favourites is the Ube ice-cream. This is made from the tropical purple yam and has the most amazing garish purple colour. You can have this served on banana fritters or topping a Halo Halo. This is truly an amazing concoction. Jelly, topped with sweet beans, topped with coconut ice, topped with Ube ice cream, and frozen jackfruit, and young coconut and even more things. You really have to order it just to bathe in its glory.
If it isn't clear yet, I love this place. It has been awhile since I have experienced so many perfectly executed, yet different dishes. I also came away knowing a whole lot more about Filipino food culture, which is a beautiful thing. I should add that they also have a great specials menu which changes often and worth the visit just to check it out. If you can't get out to Gold Creek, the cafe has partnered with HomeTaste, a new multicultural home delivery service. Medwin's food is already on here so you can get it in your belly as soon as possible.
Delikase Filipino Cuisine
Lunch 11:30am-3pm Wed-Thurs, Lunch 11:30am-3pm Dinner 5-7 pm Fri-Sat, Lunch 11:30am-3pm Sun
0406171586 and 6242 887835
O'Hanlon Pl, Gold Creek ACT 2913

Review on MyGungahlin: http://www.mygungahlin.com.au/posts/review-delikase-filipino-cuisine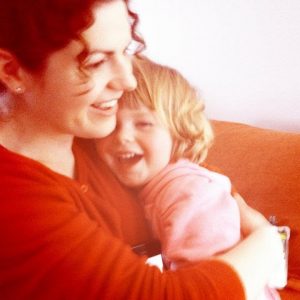 Karen Higgins