Hello hungry peoples,
We are now into week 3 of my Greek Roast series. We have already created the roast and a side of pistachio green beans and now we will finish it off with some amazing duchess potatoes. It has always caused me great sadness that hubby hates mashed potatoes. Seriously….who does that? This has led to entire years without a mashed spud in sight. Then I took up the challenge – to make a mashed potato that my hubby will happily eat. Thankfully, for the good of my sanity, I have found my solution.
Duchess potatoes have all the great things required of a mash, creamy potatoes with lots of butter, and sometimes cheese, encased in a baked crust for the people who want a bit more texture. They also look crazy pretty and impressive but are incredibly easy they are to make. Personally I don't hold back on the butter and cream as I am going for maximum flavour. I am sure you could cut some of it down but I suggest you live man! You also don't have to bother using a piping bag but it does create more crispy edges.  Just mound up and bake. So lets get into it!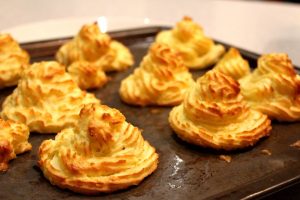 Duchess Potatoes
Prep time: 10 minutes
Cook time: 40 minutes
Total time: 50 minutes
Yield: 12
Calories per serving: 165
Ingredients
4 large potatoes
3 eggs
50g butter
1/4 cup milk/cream
Pinch salt
Pinch pepper
Optional Tools: Piping bag and star nozzle
Cooking Directions
Preheat your oven to 180 ° C.
Peel your potatoes and chop into large chunks. Boil in a pot of salted water until the potatoes have softened. Drain.
Add two of your eggs, the 50g of butter and the 1/4 cup of cream and mash it together. A potato ricer would also be appropriate. Make sure to break up any large chunks. You want it fairly smooth or it will clog the piping bag.
Season with salt and pepper.
Put you piping bag with a star nozzle into a large glass to hold it upright. Spoon the mashed potato in until it is full. Twist the top of the bag and squeeze the potato onto a buttered baking pan. You can make any shape you want but I like rosette hills.
Beat your remaining egg and drizzle a bit on the mounds. If you use a pastry brush for this bit it removes all of those gorgeous ridges but the egg really helps to make it golden and crispy.
Bake for about 20 minutes or until you have a lovely golden crust.
Serve with anything that goes with mashed potatoes. A good slow cooked stew is perfect!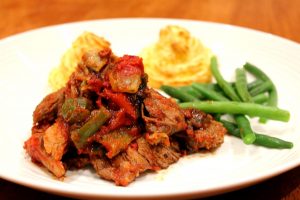 Difficulty: Easy peasy