Hello hungry peoples,
I am generally of the thought that you can't make friends with salad but this salad shakes this foundation. It is one of my all time favourite salad dishes, easy peasy and delicious. The quantities are for one serving as sadly there is no way my family would eat this, so I am generally making it for myself. Given the protein in it it is actually quite a filling meal. The dish can be simplified by using jars or tins of beetroot, which removes a significant portion of the cooking time.
Beetroot Haloumi Pistachio Salad
Prep time:

10 minutes
Cook time:

10 minutes
Total time:

20 minutes
Yield:

1 serve
Calories per serving:

319
Ingredients
4 slices 

haloumi

1/4 cup 

pistachios

8 

baby beetroots

2 tbsp caramelised 

balsamic vinegar
Cooking Directions
The most arduous step of this salad is cooking your beetroot. Preheat your oven to 200°C. Peel and chop up your beetroot into large chunks. Wrap in some alfoil, drizzled with olive oil and seasoned with salt and pepper. Roast in the oven for 45 minutes. You can also microwave the beetroot if you want something quicker. Make sure you wear latex gloves when handling the beetroot as it will make everything pink. I always have a box of disposable latex gloves in my kitchen. They are so handy for this kind of stuff, when handling raw meat or disposing of a body.
While your beetroot is cooking, shell your pistachios. These can be salted or unsalted, depending on how salty you like your food. I really struggle to shell enough without eating all of them. Pistachios are delicious!
Place salad leaves into a bowl. I like to use baby spinach or a baby spinach/rocket combination but really use whatever you like. I am not a fan of iceburg lettuce as I think it is really flavourless. It is also a bit too wet and crunchy for this salad.
When your beetroot is nearly done put a pan on medium heat and toast your pistachios. Toasting nuts makes them taste even better so I believe it is worth the hassle.
Put a little oil in your pan. When I am not full on frying I like to to use an olive oil spray to get a really light coating. Fry your haloumi until golden brown on each side. If you have a nice hot pan this will only take a couple of minutes. You want to do this at the end as the hot melty haloumi is amazing and you don't want it to go cold. You keep them as large slices while frying as it makes it easier to cook. Once they are cooked I like to dice the slices into bite sized pieces and add them to the salad.
Once your beetroot, haloumi and nuts are cooked throw them into the bowl with the salad leaves. Drizzle a few tbsps of caramelised balsamic over the salad and toss. Caramelised balsamic is essentially balsamic vinegar cooked down with a whole heap of suger. This makes it sticky and sweeter than the usual vinegar (so delicious!). That's it! Eat that sucker.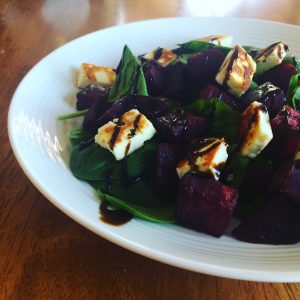 Difficulty: Easy peasy