Hello hungry peoples,
One of my favourite spice mixes is Masala chai. It is typically used in tea, in fact "chai" literally means tea in Hindi. It is usually brewed with black tea and served with lots of milk and honey. Delicious! It originates in India, where there are people who just sell chai tea, called "Wallahs". They make huge vats of the stuff and getting your daily chai fix is part of the ebb and flow of daily life in India, typically consumed for morning and afternoon tea. Traditionally the tea is served in little clay pots known as kulhar in Hindi or bhar in Bengali. Weirdly the consumption of hot beverages triggers a cooling reflex in your body so it is actually quite refreshing on a hot day.
There is a huge variation in what constitutes a chai mix. Generally there are green cardamom pods, cinnamon sticks, ground cloves, ground ginger and black peppercorn. There are numerous commercial mixes available but there is a joy in making your own and mixing it up a bit. The mix below is based on a typical variation comprising what I had in my spice drawer. That is the beauty of chai, you can use what you have. This can be used in all manner of things like tea and desserts. Today I am using it to make a spiced porridge. The spices definitely make the porridge more interesting and by cooking it in milk and drizzling in honey you replicate the lovely richness of a chai tea. Perfect for a rainy day!
Chai Spiced Porridge
Prep time: 5 minutes
Cook time: 10 minutes
Total time: 15 minutes
Yield: 4 serves
Calories per serving: 239
Ingredients
Chai Spice Mix
1 tsp ground allspice
2 tsp ground cinnamon
1 tsp ground cloves
3 tsp ground ginger
1 tsp ground cardamom

1/2 tsp

ground pepper
Tools: An old spice container
Porridge
1 cup oats
3 cups milk
1/2 tsp salt
1 tbsp honey
Cooking Directions
Combine your chai mix into an old spice container.
Add 1 tbsp of spice to your porridge oats.
Soak your oats overnight (or cook them a bit longer) in a pot on medium heat until soft and creamy. About 10 minutes, less if you have soaked your oats.
Serve your porridge with a collar of milk, a drizzle of honey and fruit of your choice. Chai-licious!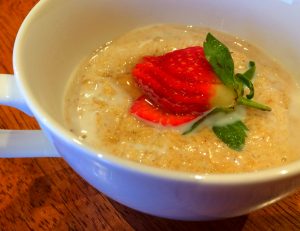 Difficulty: Easy peasy