Hello hungry peoples,
Today we are visiting a new Hometaste chef, Priscilla. Priscilla and her family have recently moved to Canberra on a diplomatic posting and are loving their new lives in Australia. They are originally from Mauritius, which is a culture influenced by their Asian neighbours, as well as colonial influences from the English and French. This has produced a rich and vibrant food culture, where they have taken the best elements from these food cultures and made them their own. This means you can start the meal with spicy Indian chickpea fritters, enjoy an Asian style noodle dish for mains and finish with French pastries. It has also produced amazing, and sometimes surprising, flavour combinations. This is where true food fusion comes from.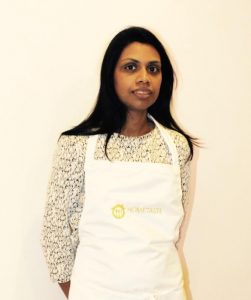 Priscilla has always enjoyed cooking, spending many a happy hour in the kitchen with her Grandma. While her cooking style is based on her Mauritian roots, she has also been inspired by the countries her family has lived in, as her diplomat husband has taken them around the world. Her professional life until recently involved the fashion industry and clothing design but cooking food has always been a passion for her. She loves cooking feasts for family and friends and has recently participated in catering some local cultural events.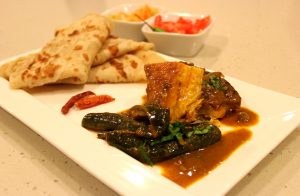 Priscilla devotes a lot of time and care to her cooking. She will specially order Mauritian spice mixes to produce an authentic taste. Gravies and sauces are slow cooked to develop complex flavours. She also builds texture by treating individual elements differently. For example to make her fish curry Priscilla starts with frying a piece of fish marinated in spices to produce a crispy skin, with a slow cooked gravy drizzled on top. Lastly it is served with her home made farata, an unleavened Mauritian bread. For her chicken kalia, she seasons the meat with Kalia spice, mint, coriander, garlic and ginger. The chicken is then slow cooked with yogurt, fried onions and potatoes. This is a fabulous dish that reflects a North Indian influence and is served on special occasions.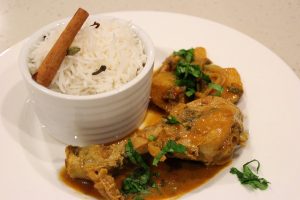 Priscilla also makes an amazing vegetarian biryani. She uses a mix of vegetables
including green beans, carrots, potatoes, onions, green peas. Protein is provided using diced soya, which is different to tofu. I had never had it before and it certainly has a different texture. In fact you could be convinced you are eating chicken. I love eating new things. I also really enjoyed her Gateaux Piments, sometimes also called poppers.  These are little fried balls of split pea lentils. Other fried offerings included sliced eggplant, potato and even bread, dipped in a batter and then cooked to golden crispy perfection.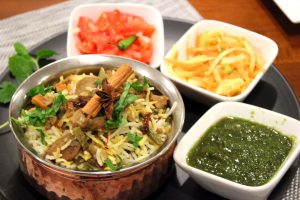 Priscilla also makes her own desserts. Her delicate French pastries are a highlight, combining perfect French shortcrust pastry with a brown sugar banana filling. Her Viennese biscuits will melt in your mouth, with a gorgeous pink icing casing enclosing two shortbread biscuits filled with a sweet raspberry filling. These are delicious, especially with a cup of tea but a labour intensive item to make. Definitely worth buying when you get the opportunity.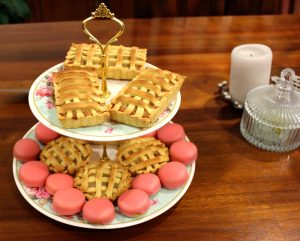 This was my first introduction to Mauritian cuisine and Priscilla certainly did it justice. The fusion of flavours and cooking techniques was amazing. Priscilla and her husband are rightfully proud of their heritage and it was lovely to meet such passionate people.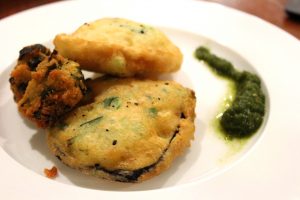 If you would like some amazing Mauritian food you can order Priscilla's dishes from Hometaste here.