Hello hungry peoples,
The lovely Michele recently celebrated a birthday at Taste of Bangledesh in Manuka. I have mentioned Michele previously for introducing me to Cooking Circles and Russian Pelmeni and I shall be eternally grateful. Michele is also a prolific food blogger. You can check out her blog here which has reviews for a whole heap of restaurants.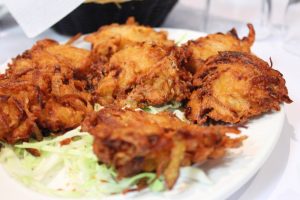 Being such an astute foodie, plus someone who knows a lot of fellow Canberran foodies, Michelle booked out the whole restaurant. She even arranged set seating so that people with similar interests were seated together. This kind of attention to detail made for a fabulous night filled with great food and conversation. I was seated with some fellow food bloggers and a guy who roasts his own coffee beans.  Do you know you can roast coffee beans in a popcorn maker? I am tempted but I don't think my kids would forgive me. They are obsessed with popcorn and I feel like the coffee flavour would probably stick around.
We started our feast with some golden, perfecty fried onion bhaji and some crispy pappadums. This was followed by a delicate Fish Bengali curry (snapper cooked in Bengali spices with eggplant) which everyone loved. The next dish, Palak paneer, was really very good. I am a huge Palak Paneer fan. The creamy spinach gravy with soft and luscious Indian cheese is just an amazing combination. These guys obviously make their own paneer as the texture and flavour was really fresh and light. We finished off our mains with a Chicken Dum Murgh that was fabulous. Really tender marinated chicken cooked over a slow fire, served with a flavourful gravy. Delicious!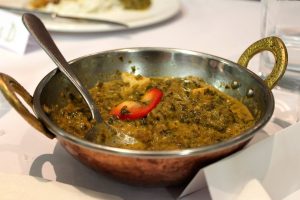 Of course the birthday cake had to be something special. A home-made ooey gooey chocolate cake with blood oranges has to be one of the best cakes I have ever had. It tasted like the best jaffah anyone could ever imagine. I am desperate for the recipe. I need to have it again. Lucky Michele is pretty nice and helped me recreate it. Next post I promise!