Chicken kalia is a  North Indian influenced chicken curry that is served on special occasions in Mauritius. Mauritius is a culture influenced by the Indian, Chinese, Creole, English and French culinary traditions. This has produced a rich and vibrant food culture, inspired from the best elements of each of these exotic sources, giving rise to Mauritius' own colourful taste palette.
Chicken kalia is known for being creamy and spicy but also well balanced, so it will not destroy you taste buds with excessive heat. The chicken is seasoned with a special Kalia spice mix, as well as mint, coriander, garlic and ginger. The dish is then slow cooked with yoghurt, with extra flavour and textures provided by the addition of  fried onions and potatoes. It is commonly served with a salad, chutney and rice to provide contrast to the intense flavour of the dish.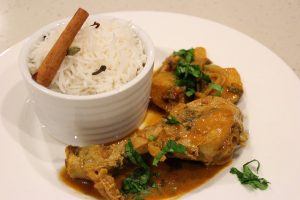 You can order Chicken Kalia from Priscilla at Hometaste here.