Hello hungry peoples,
Today's recipe of a potato, caramelised onion and rosemary pizza, combines classic flavours inspired by a trip hubby and I took to France when we were young and fancy free. A small market in Nice had a bakery stand filled with flavoured focaccias which blew our minds. That's the first time I had potato, caramelised onion and rosemary together. Heck it was the first time I had even heard of caramelised onion. We are talking a long time ago people. We roamed Europe with another foodie couple and it was a pretty amazeballs experience. We have all settled down with kids now but maybe when we are old and retired we can do it again.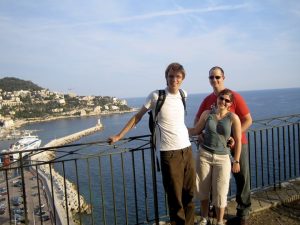 I have been meaning to recreate that foccaccia but haven't got around to it but it does make an amazing pizza topping and it is on a regular rotation in my house. If you have ever wondered what a "white" pizza, this is it as it has no tomato sauce base. I have also  included a cheat for making caramelised onions super fast. Normally they require hours of cooking but honestly…who has the time? I do think it is worth making your own pizza dough though. I may have mentioned that a few thousand times. I have posted the recipe previously here and here but I will give you a quick run-through. Once you have a few batches in your freezer it is super easy to have amazing home-cooked pizza whenever you want.
Potato, caramelised onion and rosemary pizza
Prep time: 60 minutes
Cook time: 10 minutes
Total time: 1 hour 10 minutes
Yield: 1 pizza
Calories per serving: 630
Ingredients
Dough
550g 

plain flour

250g  

continental flour

200g  

coarse semolina flour

1 tsp 

dried yeast

1 tsp 

sugar

1 tbsp 

salt

3-4 cups 

warm water
Topping
1  

small potato

1  

brown onion

2 tbsp 

butter

2 tbsp 

balsamic vinegar

4  

boccocini balls or 1 mozarella ball

2 tbsp 

rosemary

2 tbsp 

olive oil
Tools:  pizza pan or stone
Cooking Directions
Turn your oven onto it's highest setting fan forced. Ideally you will have a pizza stone. Put it in the oven so that it can get ridiculously hot while the dough sits.
Combine the flours and give them a good mix.
Make a well on one side and combine the sugar and yeast with a bit of warm water to make a paste. Let it sit for a few minutes to get the yeast to get going. They will start making bubbles once they are happily chugging away.
Make a well on the other side of the flour mix and add you salt and dissolve in some warm water. Add the remaining warm water to make a wet dough. Either knead the mixture until it comes together or run it on a mixer with a dough hook for 5-10 minutes. You need to develop the gluten so it will hold together nicely and be flexible.
Set aside somewhere warm for about an hour.
After the dough has sat and risen for about 50 minutes, prepare your toppings. Thinly slice the potato. The thinner the slices, the crispier they will get. Also thinly slice your onions. Melt the 2 tbsp of butter with the two tbsp of balsamic vinegar and fry your onion until cooked and translucent. The balsamic vinegar gives the onions that caramelised flavour. I don't know why but it works.
Roll out a fistful of dough so that it is nice and thin (5 mm or so). If it is too wet just add some flour to dry it out a bit. Rub some olive oil onto the top of the pizza dough.
Take the piping hot pizza stone out of the oven and lay the dough onto it, oiled side down. Drizzle a few more tbsp of olive oil onto the top of the dough. Layer your onions and boccocini torn into chunks onto the pizza base. Boccocini is a smaller, cheaper version of mozzarella and I use it all the time. Lastly put your potato slices on top and sprinkle on the rosemary. Put it in the oven and cook for 5-10 minutes, until it is looking golden and crispy. That's it, you're done!

Potato, rosemary and caramelised onion pizza
Difficulty: Medium