Hello hungry peoples,
This week's recipe of lamb chops with rosemary potatoes is an easy one and a one pan dish too. Everyone loves a one pan dish and lamb chops are super cheap so it is all win! I am actually out of town going to Pax Aus (a gamer convention), partly because I enjoy games but mostly because I get a weekend away in Melbourne sans children. I actually nearly forgot to post because I was watching people try to make Cosplay costumes in an Iron Chef style arena.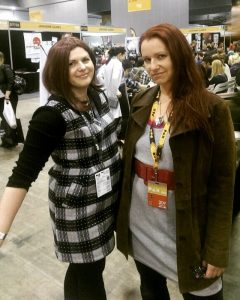 Cosplay is a weird thing but my friend Sophie and I decided to truly experience the convention properly we would have to give it a go. It took us ages to decide on something, mostly because we do not naturally look like anime characters. In the end we decided on Doctor Who companions because a) we can wear relatively normal clothes and b) we are lazy. We did purchase police box necklaces to help anyone who was bewildered by our appearance. We may have needed bigger necklaces.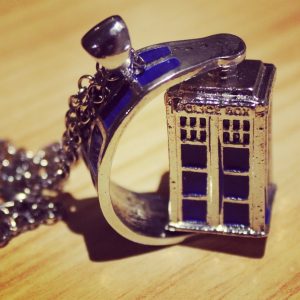 Anyway back to the food. This is one of my favourite no mess no fuss meals. You essentially roast your potatoes underneath your lamb chops. This causes the potatoes to become kinda braised from the lamb fat but also kinda roasted. It is just darn delicious and super easy.
One Pan Lamb Chops with Rosemary Potatoes
Prep time: 10 minutes
Cook time: 40 minutes
Total time: 50 minutes
Yield: 4 serves
Calories per serving: 519
Ingredients
500g lamb chops
4 potatoes
2 cloves garlic
2 tbsp rosemary
1 tsp salt
1 tsp pepper
Cooking Directions
The amounts of potato and lamb really depend on how many people you are cooking for. The great things about this dish is it is easy to make large amounts. I guess for 4 adults you would want at least 4 lamb chops (probably more, they can be small) and at least 4 large potatoes.
Preheat your oven to 200 °C.
Chop up your potatoes (roasting size) and put in the baking pan.
Sprinkle with salt, pepper and rosemary and drizzle with olive oil. Throw your two cloves of garlic in as well. You don't need to bother peeling them, just throw them in. Roast for 20 minutes.
Place your lamb chops on top of your potatoes.
Brush the chops with olive oil and season with salt, pepper and a little more rosemary. Chuck everything back into the oven and roast to your liking. I prefer my lamb chops well done, with a bit of char. This usually takes 40 minutes. By this time your potatoes will be perfectly cooked. Maybe throw some green stuff on a plate too. That's it, your done!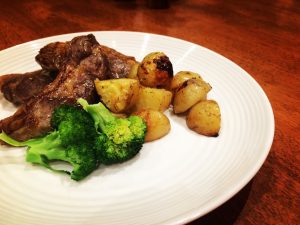 Difficulty: Super dooper easy