Hello hungry peoples,
One of my favourite things about travelling around France was all the fabulous little French bistros. These were invariably dark, usually lit by candles, with lots of wood, and playing the heck out of their Edith Piaf CD. The atmosphere was always fabulous and they would offer dishes such as maison cassoulet and steak frites, which I could happily eat for days on end. Until I died of a duck fat induced heart attack at least.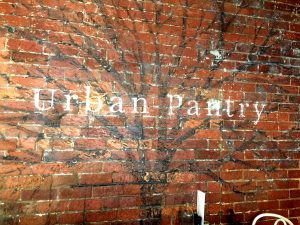 Today we visit Urban Pantry in Manuka, which has some of the food and feel of a good French bistro. It is located on a shop corner overlooking the square and has an adorable, and very French, outdoor seating area. Inside it is a very pretty cafe, gorgeous crisp white tiles, lots of wrought iron and wood, and lots of hipster faux vintage lights. French without having to fly all the way to Europe. So much win!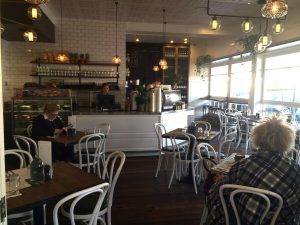 I have been visiting the cafe pretty regularly as it is near my work and it is perfect for a lovely indulgent kid free lunch. If I was a millionaire I would do it every day. Actually these days millionaire is probably not sufficient. Billionaire??? Then I would go to lovely cafes every day and be the size of a house. Especially if I ordered Urban Pantry's  breakfast burger, "The Reuben", every day. I made a special trip to Urban Pantry to try this beauty, making sure I got there before the 11:30 cut off for the breakfast menu (it is available most of the day on weekends).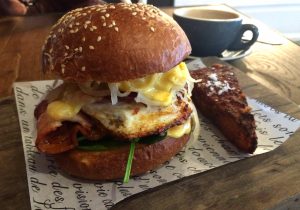 The dish is inspired by the Rueben sandwiches you find in American Jewish delis, a concept becoming much more common and popular in Australia. House cured silverside is served with bacon, egg, swiss cheese, scorched tomato and pickled a cabbage. It is made even more indulgent by the addition of a crispy potato rosti on the side and a ridiculous amount of hollondaise, trying to escape the confines of the burger. My heart gets palpitations just thinking about it but it was seriously delicious. Maybe in a year my heart will be able to handle another one. The Creme Brulee French Toast is another temptation on the breakfast menu that I would be partial to trying. There are also healthier options including baked fruits on granola, a chia pudding or a healthy breakfast bowl but I have little interest in trying them. Tell me if they are any good…..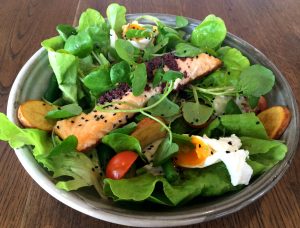 I realise the menu doesn't sound particularly French yet but once you get to the mains it is all "oooh la la….ah haw haw haw…..je ne pa parlay vous francais". Sigh…my french is truly atrocious. Classic french dishes include cauliflower gratin, salmon nicoise, steak frites and a seafood bouillabaisse but with a modern Australian twist. I can report that the salmon nicoise was amazing. Firstly it is a light version of the dish, which can sometimes be an over dressed nightmare with as many calories as a whopper. A perfectly poached egg adds a little creaminess and richness. Some crunch and texture is provided by the perfectly fried kipfler potatoes. A tasty and beautiful dish.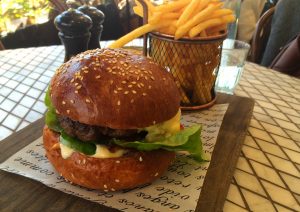 Wandering back to more purely modern Australia fare, the Urban Pantry has quite an interesting burger menu. I had to get the wagyu burger because firstly….wagyu! Secondly it has double brie cheese in it. This mammoth monster  was served with tomato, lettuce and house made relish with really hot and crispy french fries. Do I need to say it was amazing??
If you are partial to chicken burgers they also  offer a schnitzel burger with a parmesan crumb and lime jalapeno aioli. The vegetarian option is a portebello burger with a smoked paprika aioli. I am definitely going to start adding smokey paprika to my home made aioli. It is a brilliant idea.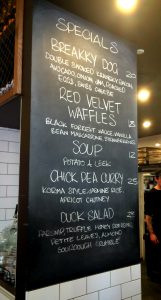 This is a great little cafe. Beautiful surrounds and beautiful food make for an amazing experience. The service is also super efficient. I have always been seated promptly and had my food arrive quick smart, which is great because I am always impatient and hungry.
Urban Pantry
5 Bougainville St Griffith
Open: Mon-Sat: 7:00-17:00, Sun: 7:00 – 16:00
Ph: (02) 6162 3556