Hello hungry peoples,
As Australian's it is our national duty to love a good scone. A flavoured scone?? Even better! This is my recipe for a classic combination; a white chocolate and blueberry scone. The scone itself has no added sugar (so its a health food right?) which I compensate for by adding a whole heap of chocolate and blueberries. The recipe itself is super simple and I have even added a method for incorporating the butter which makes it a really easy dish to bring together. If you want to take it to the next level you could even put whipped cream and blueberry jam inside. Welcome to scone heaven!
Blueberry and White Chocolate Scones
Prep time:
10 minutes
Cook time:
20 minutes
Total time:
30 minutes
Yield:
6 scones
Calories per serving:
435
Ingredients
2 cups 

self-raising flour

1 cup 

frozen blueberries

1 cup

white chocolate chips

50g

butter

1 cup

milk

1 teaspoon

salt
Tools: baking pan, biscuit cutter
Cooking Directions
Preheat the oven to 180 °C
In a large bowl mix you 2 cups of self-raising flour and salt.
Grate the 50g of butter ad stir it into the flour.
Add one cup of milk and gently fold it together. You want to knead the dough as little as possible to avoid gluten development which will make it tough.
Finish by adding your 1 cup of white chocolate chips and 1 cups of frozen blueberries.
Turns the mixture out onto a floured board and gently press the mixture together until it is about 3 cm high. Flour as need if it is a bit sticky.
Use the biscuit cutter to cut the dough into rounds and place them next to each other on a greased baking tray. Putting them next to each other encourages them to puff up vertically.
Put the tray in the oven and cook for 15-20 minutes, until the scones are starting to brown and look golden.
Serve warm as is, or with some butter, or jam and cream. That's it, you're done!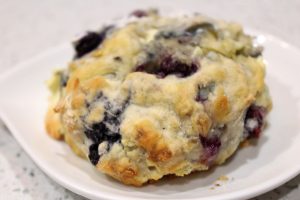 Difficulty: Easy to medium