Hello hungry peoples,
If you follow me on social media you may have noticed that I have recently been gallivanting around Melbourne. I ate so much food but I am learning to pace myself and decided to share what was one of the best meals I had there rather than post about a million different places. Saint Lucia in Windsor (Melbourne) is a gorgeous little restaurant/bar a short train ride out of the city. The lovely proprietor is a cousin of one of my friends, Kevin, and he was quite insistent that we needed to go there and fill our bellies. He did not lead us astray, this place is really special.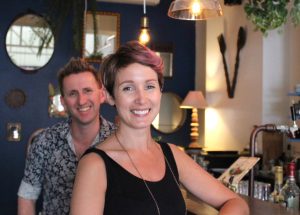 The original intention for the owners was to create a really great bar but as their plans evolved they fell into providing delicious food as well. The space is eclectic, with decor sourced from the surrounding op shops, but it has been used in a smart way to create a friendly and fun atmosphere, perfect for after work drinks. The drinks menu has a focus on rum and tequila but there is also a good range of wines from all over the world. I couldn't go past their cocktails menu, particularly their range of sangria, served by the jug. It was a hard choice but we went with a Peach Sangria with Rosé, white peach nectar, brandy and basil. This was seriously tasty and much too easy to drink. In fact we managed to drink about 2 litres of it. So yummy!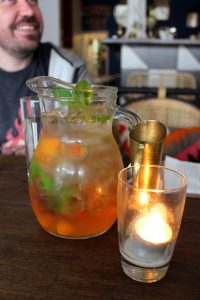 The name "Saint Lucia" comes from a Caribbean island, and they have followed this theme through by offering Caribbean, Cuban and Southern America flavours as a series of sharing/tasting plates. The menu really is amazing. We started with the plantains because I have never had plantains before. These seemed more like chips, deep fried and served with a spicy chipotle mayonnaise.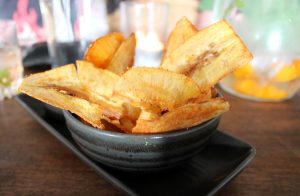 This was followed by goats cheese and chorizo cigars, which was Kevin's pick as he is partial to flakey pastry filled with cheese. Next we feasted on some super spicy jerk chicken, which was certainly on theme. My personal favourite was the pork belly skewers. The combination of slow smokey roasting meat with caramelised pineapple was indulgent and delicious. I am working on a copycat recipe as we speak. Lastly we were served a jambalaya, which was perfectly nice but probably redundant as we were all extremely full.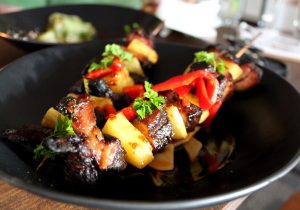 Saint Lucia is a great spot. Beautiful surrounds, tasty drinks and fabulous food make for a winning combination. If you are not a local definitely worth the train ride from the city. Get it in your pork belly!