Hello hungry peoples,
Today we will begin our conversation about duck. This is a conversation that may go on for weeks…months….if not years. That's because the duck is the ultimate multi-tasker. A simple roast duck provides not only the meat but fat for rendering potatoes and the makings of an amazing gravy, as well as the bits for one of the best stocks. There are also so many different ways to have it: Duck a l orange, peking duck, duck pancakes, duck rolls etc etc. At $20 a bird it is a bargain really. I avoided duck for ages, it seemed so much less familiar and harder than the old roast chicken. Here is the thing with duck though, it has A LOT of fat on it. This not only makes it super delicious but also incredibly robust. You can pretty much leave it alone and it will work out. It is actually less work than a roast chicken.
Traditional recipes come in a myriad of forms that I find unnecessary. Brining the duck is supposed to produce lovely moist meat. This takes a fair bit of time and hassle. Same with poaching and then roasting your duck. Just don't overcook your duck and it will be lovely and moist anyway. Removing giblets is usually unnecessary in commercially available ducks in Australia, as they have already been removed. Next don't wash your raw duck. It just increases the chance of giving everyone food poisoning with negligible benefits. Scoring or piercing the skin is supposed to help the skin crisp up. Duck is so fatty that the skin will be crispy as long as it has cooked long enough. You can also tie the legs up and cut off the wing tips to prevent these bits burning. I never bother as I don't like eating the ends of drumsticks or wing tips (who are these people who do?). I guess I have never been hungry enough.
Duck with Gravy and Roast Potatoes
Prep time: 10 minutes
Cook time: 1 hour 30 minutes
Total time: 1 hour 40 minutes
Yield: 4 serves
Calories per serving: 334

Ingredients
1 

whole duck

4

large potatoes
Gravy
2 cups 

chicken or duck stock

2 tbsp 

plain flour

1 tbsp 

salt

1 tbsp 

pepper
Cooking Directions
As you can see there are not many ingredients, thanks to the mighty duck. The first thing to do is get the duck into the oven. Preheat to 180 °C.
Get a baking pan, insert a rack and place your bird on the rack, breast side down.
Season with salt and pepper.
The bird goes on a rack so that all the yummy duck fat pools underneath the bird. This makes it easier to use the duck fat for the potatoes and allows the base of the bird to crisp up.
Put the duck in the oven. It will take about 1 1/2 hours to cook if it is around the 2 kilo mark. It will be obvious when it is ready, as it will have beautiful golden skin.
As soon as the duck goes in, chop the potatoes into large chunks and parboil in salted water on a high heat for abut 10 minutes. I never peel my roast potatoes as the skin crisps up nicely and is really good for you. Plus hassles! You want the potatoes to soften and be starting to fluff up and fall apart. This gives you lots of nice edges for crisping up.
Drain the potatoes and put them in the oven in the same pan as the duck (under the rack of course). This allows the fat from the duck to drip onto the potatoes, which is a very very good thing. If you have a low rack I would recommend propping it up with something that will not catch fire.
Once everything is cooked remove the duck from the oven and let it rest for a bit under foil while you make the gravy.
Place the potatoes in a new dish and let them sit in the warm oven so they don't get cold.
Remove the rack from the pan and drain off all but a couple tbsp of fat. Make sure you keep the fat. It will keep in the fridge for months and is amazing for frying and roasting things.
Sprinkle the 2 tbsp of plain flour over the bottom of the baking pan. It will absorb the oil.
Put the baking pan on medium heat on your stove top and use an egg flip to scrap and incorporate the flour. You let this cook a bit as it will taste better.
Once you have a brown flour base add the 2 cups of chicken stock and increase the heat to high. This should bubble furiously and thicken. Cook the gravy down a bit as this gives you a richer, more intense gravy. Once it looks and tastes amazing you are done.
Slice the duck up and serve with the super crispy potatoes and a drizzle of gravy. Put some green stuff on the plate so you can pretend its healthy and dig in!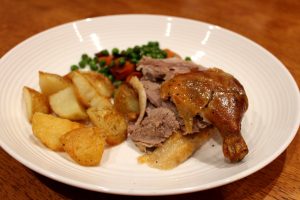 Difficulty: Easy peasy