Hello hungry peoples,
Making delicious food can be difficult when you have a full range of ingredients to choose from. That's why I am always seriously impressed by places that achieve deliciousness with some serious restrictions imposed on their ingredients list. Sweet Bones Bakery and Vegan cafe is such a place. Their food is super healthy, as well as organic and vegan, but seriously delicious. In fact this place is worth a mention for one single thing – in my opinion they have the best banana bread in town. I have been working on a copycat recipe for a looong time and will share it in my next post. They serve this with a maple whipped butter that I am also keen to recreate.
The owners Emily and Russell Brindley, who practice what they preach being both vegan, have created a place with a lot of atmosphere. Their healthy, whole foods approach is hosted in an adorable shabby chic space. It is in the middle of Lonsdale street so of course it has to be appropriately hipster! They reside in a street full of amazing coffee roasters so of course their beans are sourced a few doors down.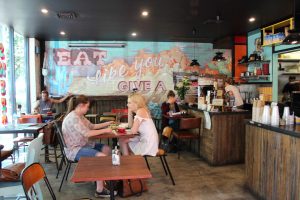 Emily is the chef in the kitchen and the menu is divided up into an "All day breakfast", "Light Meals", "Burgers and salads", "Dinner", "South of the border", "Baked goods" and a range of interesting smoothies and juices.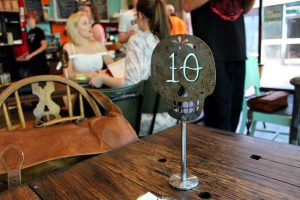 Personally I lean towards the breakfast dishes. Tofu scramble does not sound appealing to most but Emily has actually built a lot of flavour into it. The use of seeds, such as sunflowers and pepitas, also provides some texture to the dish. This is usually served with lots of different vegetables and freshly toasted sonoma toast to make for a satisfying meal.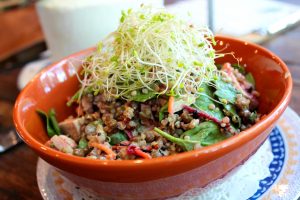 I am also partial towards the buddha bowl. Greens, lentils, quinoa, marinated tofu chunks, shredded carrots, beetroot and sprouts with your choice of dressing (I like the cashew tamari). There are also so many more options available. Vegan lasagne, battered cauliflower "wings" and mushroom burgers just to name a few. If you want a guilt free and fun meal Sweet Bones is the place to be.
p.s. My copycat banana bread recipe coming soon.