Hello hungry peoples,
This is essentially the Asian version of spaghetti and meatballs, although there is not a tomato in sight. One of the things I like best about Vietnamese cooking is the profuse use of fresh herbs.  It makes everything taste so light and fresh, even when deep frying the heck out of it. Essentially the dish is made up of pork meatballs flavoured with ginger, garlic, kecap manis and, of course, fish sauce. Kecap manis is just a sweet version of soy sauce and can be substituted for the regular stuff.
I have a really great technique that makes cooking the meatballs super easy. Just put them under a hot grill and they will cook through and brown perfectly. Brushing them with sesame oil also prevents them drying out and really adds to the flavour of the dish. The noodles provide some much needed carbs and the herbs provide freshness and flavour. The addition of spring rolls give a wonderful crunch to the dish but is not strictly necessary if you are a purist. I would recommend it though. It is amazeballs.
My Bun Cha
Prep time: 10 minutes
Cook time: 20 minutes
Total time: 30 minutes
Yield: 4 serves
Calories per serving: 702
Ingredients
500g

pork mince

1 

onion

2 tbsp

fish sauce

2 tbsp 

kecap manis

2

crushed garlic cloves

1 cm

piece ginger

2 tbsp 

sesame oil

1

sliced chilli

200g

vermicelli rice noodles

1/2 cup

fresh basil, mint and coriander (whatever you have at hand will work perfectly fine)

1/4 cup

peanuts

2 cups

beansprouts
Dressing
2

limes

1/4 cup

grated palm sugar or brown sugar

2

garlic cloves
Cooking Directions
First make the meatballs. Preheat the grill to 200 ° C. Mix the mince, ginger, garlic, finely diced onion, 2 tbsp fish sauce and 2 tbsp kecap manis. You don't need to season the meat as the fish sauce is plenty salty. Shape into squash sized balls.
Put your meatballs in to grill. You can also add your peanuts to an isolated spot and toast them. Keep an eye on them though, it is easy to burn them.
Once the peanuts are toasted, remove them from the grill and chop them up coarsely.
Cook the spring rolls. I tend to buy the frozen variety you can put straight into the oven. If you have done the same, put them in with the meatballs, with the grill on fan forced. They usually take about 10 minutes. Otherwise fill a saucepan with vegetable oil and put it on a high heat. Fry the spring rolls in batches until cooked. Put them under the meatballs in the oven to keep them warm.
Next make the dressing. Combine the juice of two limes juice, 2 tbsp palm sugar, 2 tbsp fish sauce and 1/4 cup water. Stir until sugar is dissolved.
While the meatballs are grilling, bring a kettle of water to boil. Add the vermicelli noodles to a bowl and pour the boiling water on top.
Once one side of the meatballs has browned, turn them over and put them back under the grill.
Drain the noodles and place in bowls. Top with meatballs, beansprouts, herbs and peanuts. Spoon dressing on top. For the adults put some of the sliced chilli on top and dig in.
Aside: Ok, lets talk bean sprouts. They are a pain in the bum. If they sit in your fridge for even a day they go slimy and gross and you never have them when you need them. The trick is to get them home, take them straight out of the bag and place them in a tupperware container covered in water with a few tbsps of lemon juice. They can last up to two weeks this way. Your welcome.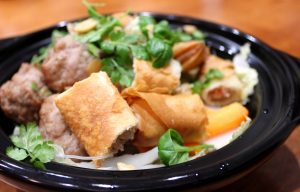 Difficult: Easy to medium