Hello hungry peoples,
Time for a copycat recipe. I love that the internet is filled with these. So much easier than getting off my butt to go out. I must admit I am not a rabid fan of the pancake parlour. Mostly I went there in my misspent youth when it was the only thing open after 10 pm.  I do remember having to carry a guy up the stairs as he was too drunk to walk. Fun times! My favourite thing at the Pancake Parlour, and really the only thing I would go back there for, is their cheese and potato pancakes. Now that I have worked out how to make my own I need never go there again. These are super super easy.
Copycat Pancakes Parlour Potato and Cheese Pancakes
Prep time:

10 minutes
Cook time:

20 minutes
Total time:

30 minutes
Yield:

4 large pancakes
Calories per serving: 391
Ingredients
1 cup 

self raising flour

1 1/4 cup  

milk

1 egg

1 tbsp 

lemon juice

1 tsp 

salt

1

medium potato

1 cup

grated cheddar cheese

2 tbsp 

butter
Cooking Directions
Mix the 1 cup self raising flour, 1 1/4 cup milk, 1 egg, 1 tbsp lemon juice and salt. The self-raising flour is to make the pancakes a bit fluffy and the lemon juice produces a buttermilky effect, which is delicious. Combine the ingredients so that there are no lumps. Using a whisk can make this easier.
Peel the potato and grate it.
Heat a fry pan on medium heat with a tbsp of butter.
Once it heats up and melts the butter, pour half a cup of the pancake batter into the pan. Gently tilt the pan to spread the mixture.
Sprinkle some grated potato and cheese on the top side of the pancake.
Once the pancake is getting bubbly and the bottom side is golden, flip the pancake. This cooks the grated potato and melts the cheese. Fry this side until the cheese is golden and crispy.
Carefully flip the pancake on to a plate. Now the very important extra bit. You can't skimp on the butter. That is the magical secret ingredient that they use at the pancake parlour. Put about a tbsp of butter, or more if you like, on top of the pancake to melt. There you go….done!. Now you never need to get off the couch and go the the Pancake Parlour again.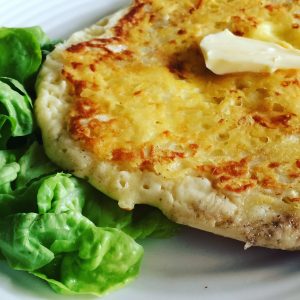 Difficulty: Easy peasy