Hello hungry peoples,
I first had a proper Italian hot chocolate when I was in Venice an eon ago. It rained the whole time to the point where Venice turned into a swamp and my shoes fell apart. The beauty of Venice was definitely hidden from me but the discovery of this thick chocolately goodness almost made the trip worth it. It is super rich, made simply with milk and dark chocolate, and the use of a little cornflour produces a texture like a hot chocolate pudding. The darker you go with the chocolate, the richer it will be. Seriously amazeballs!
Italian Hot Chocolate "Cioccolata Calda"
Prep time: 10 minutes
Cook time: 10 minutes
Total time: 20 minutes
Yield: 4 serves
Calories per serving: 440

Ingredients
200 g 

dark chocolate

2 cups 

milk

2 tbsp 

cornstarch

2 tbsp 

butter
Cooking Directions
Put a small saucepan on a medium heat and melt the 2 tbsp of butter. Add the 2 tbsp of cornflour and mix with a whisk until a paste is formed. Let it cook for a bit (this helps to remove the flour taste).
Add the 2 cups of milk and the 200 g of chocolate (broken up into chunks.
Use a whisk to incorporate the chocolate as it melts. Continue whisking regularly and after about 10 minutes the mixture should thicken up. The longer you cook it, the thicker the mixture will be.
Once you are happy with it serve! You can put a bit of ice cream or whipped cream on top for extra decadence. I like raspberries and a bit of icing sugar.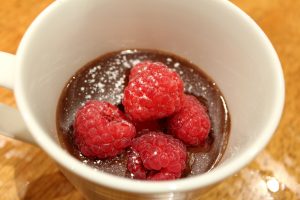 Difficulty: Easy peasy
p.s. You can let the mixture cool completely and it will solidify into a chocolate pudding/mousse like dessert. Also delicious!