Hello hungry peoples,
I am a creature of habit and sometimes my habits get elevated to being sacred to me. Since I am an obsessed foodie most of these relate to food and the Tuross Boatshed is up there for me.   First let's talk about the location. Tuross has long been my coastal haunt as my friend Kevin's family has a coast house there. The house has amazing views over the ocean and sometimes you can even see whales. I also love that until recently the house decor was solidly set in the 70s, which I thinks adds to its charm. The coast certainly feels like it moves at a slower pace so it was entirely appropriate.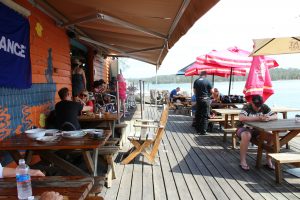 When I was younger we would visit the house as a a group for events like New Years. Now that we have settled down with kids we visit all together and the kids love playing with each other so much that they leave us alone and allow us to spend our days and nights playing board games and drinking wine. It is one of my favourite things and yes….I know, we are so old!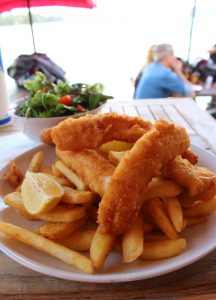 Anyway back to food related business. Tuross for a small coastal town punches above its weight in regards to food. Some of my favourites include getting a coffee at Buffer's Kitchen or visiting the Pickled Octopus.  When I want amazing fish and chips (and I am at the coast so of course I do) Tuross Boatshed is the place to be. The boatshed is modest in appearance, looking like…well, a boatshed. It does have a huge deck though, which looks out over Tuross lake and it is just stunning.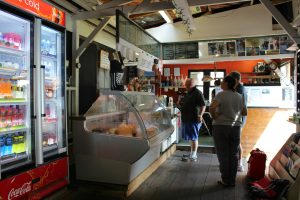 The menu is reminiscent of a local takeaway shops but the quality of the food on offer is impressive. This of course includes fish and chips (and you can select a particular fish…always a good sign). Everything is piping hot from the deep fryer and super salty (in a good way). The chips are amazing but if you want even more crunch you have the option of a beer battered version. The calamari rings have been perfectly tenderised and the use of a different batter provides a contrast to the batter on the fish. I strongly suspect they use panko breadcrumbs as the crust is super crunchy.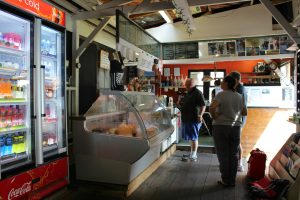 They also offer a decent side salad with balsamic dressing, which for me is a necessity as I don't want to have a heart attack yet, plus it contrasts so well with all the deep friedness. That's pretty much all I order but I have heard on good authority the other menu items such as potato scallops and seafood sticks are excellent.   Lastly there is beer and wine offered on the premises so you really can just chill out on the deck at sunset to perfection!
p.s. This place also function as a real boatshed. You can buy fishing gear and hire a boat to take out on the lake.