Hello hungry peoples,
Green spaghetti, more commonly known as pesto, is one of my daughter's favourite things to eat. She is generally opposed to green things so this is one of my go to meals for making sure she doesn't wither away and die. That's Parenting 101 people.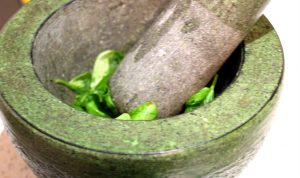 My hubby has a passionate hatred of pine nuts (I know….I married a strange man) but luckily with pesto you can use any herb and nut to make crazy and delicious combinations. Today we are going to use macadamia nuts to prevent the whingeing from hubby. One of the best pesto's I ever had was made with coriander served on a prawn pizza. That's the other thing that I love about pesto. It is so functional. You can use it on pasta, pizza, sandwiches, or even as a topping for soup to add an extra kick of flavour. That is called "pistou" and so very French. The technique for making pesto is super easy. You just mush the whole lot together. I prefer to go old school using a mortar and pestle but a blender will also do a good job. Let's get into it!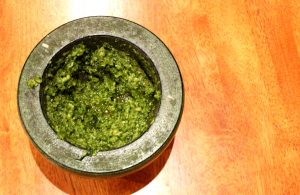 Macadamia Pesto
Prep time: 10 minutes
Cook time: 5 minutes
Total time: 15 minutes
Yield: 4 serves
Calories per serving: 124
Ingredients
1 bunch basil
1/4 cup macadamias
1/2 cup parmesan
1 cup garlic olive oil
Cooking Directions
Toast your macadamias in an oven at 180 °C for about 5 minutes. This helps to bring out the nuttiness.
Grind your basil leaves into a paste. I like to use a mortar and pestle for this but you can put everything in the food processor. It just ends up with a different texture. If you want, you can add raw garlic at this stage but I find it a bit strong. Instead I use a garlic infused olive oil to give it some kick.
Add the macadamias and pound everything together. Add the half a cup of grated parmesan cheese. You can use a blend of cheeses such as parmigiano, reggiano or pecorino if you want to be real fancy. Grind everything together to form a lurid bright green paste.
Add salt and pepper to taste. The pesto is now ready for pasta, pizzas, sandwiches etc etc. You can even store it in a jar in the fridge for a bit if you put a layer of olive oil on top. That's it, you're done!

Home Made Gnocchi with Pesto
Difficulty: Easy peasy