Hello hungry peoples,
I love a good potato and leek soup, thus I was determined to find a recipe that was amazeballs. I am pretty happy with the result and it is partly inspired by a recipe that Lucy, a friend from high school friend, contrived. She discovered early that the trick to a good vegetable soup is the profuse use of butter, although she used a butter replacement called Nuttelex, which could possibly be healthier (*shrug*). I really liked her use of whole grain mustard, which adds another  complementary flavour to a soup that is a bit of a two note dish. Enjoy!
Potato and Leek Soup
Prep time: 10 minutes
Cook time: 30 minutes
Total time: 40 minutes
Yield: 4 serves
Calories per serving: 349

Ingredients
4

large potatoes

3

leeks

75g

butter

1 tbsp

wholegrain seeded mustard

4 cups

chicken stock

1/2 cup

sour cream
Cooking Directions
Put a large pot on a medium heat with the 75g of butter.
Slice the leeks and add the the melted butted.
Let the leeks cook and caramelised for about 10 minutes. This step adds a lot of flavour to the soup.
While the leeks are cooking peel and coarsely chop the potatoes.
Add the potatoes, the tbsp of wholegrain seeded mustard and the 4 cups of chicken stock to the pot.
Cook until potatoes are cooked through and falling apart, which thickens the soup. I also use a fork to break the potato chunks up a bit. A potato masher would also work well but I like to leave some chunks. It will take abut 20 minutes to cook.
Season generously with salt and pepper and serve with a good dollop of sour cream. That's it, you're done!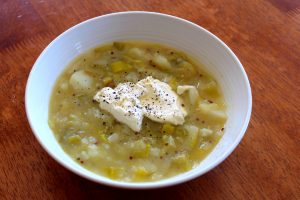 Difficulty: Easy peasy