Hello hungry peoples,
One of the best things I love about traveling is the opportunity to eat all the different kinds of food. It is so inspiring diving into a new food culture. I was recently in London, which isn't extremely different from Australia, but there were enough surprises to keep it interesting.  One of these was my discovery of bubble waffles. In fact waffles in England seem to be in general very popular. Nearly every hotel buffet had a waffle iron that was in serious demand.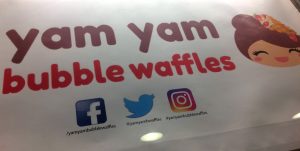 Personally I am much more impressed by an omelette station. That is my level for a fancy breakfast but fresh waffles do have a charm. In fact I think the freshness factor is probably the most important thing with waffles. This is taken into consideration at "Yam Yam Bubble Waffles" where every waffle is made to order. This can make things a bit slow but it is worth the effort. The cafe is located on the South Bank in London, a seriously trendy area where you can walk past the Globe Theater, Shakespeare's haunt, or go in circles on the London Eye. They are also located in Hong Kong if you are looking for something closer to home (i.e. Australia).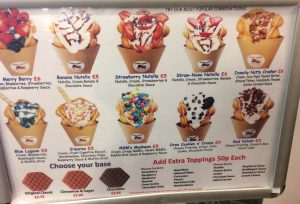 They serve a range of seriously decadent sweet waffles, piled high with cream, fruits, sauces and nuts, or a savory option. I tried the sweet, with strawberry, banana, pecan, whipped cream and salted caramel sauce. The warm waffle melted the cream and the pecan provided a much needed crunch to all the creaminess. It was seriously delicious.  Hubby tried a savory option, where the waffle was filled with fried chicken. He thought the sweet batter of the waffle was a bit weird but he ate the whole thing so it couldn't have been too bad. You can check out the rest of the menu here. If you happen to be wandering around London sometime check it out.