Hello hungry peoples,
A quick mid-week healthy meal is a blessing and even I lose culinary puff as the week progresses. I don't know what corner store take-outs  do to their roast chicken (I assume it involves a lot of fat) but they are ridiculously delicious. My favourite place to get a roast chicken is at my old stomping ground at the Nicholls shops. It is a little further afield now but worth the journey. The owners wife is also quite skilled at making the sauces that they use on their delicious burgers. If your in the neighbourhood, check them out.
Cheat's Warm Chicken Chicken Salad
Prep time: 5 minutes
Cook time: 10 minutes
Total time: 15 minutes
Yield: Serves four
Calories per serving: 277
Ingredients
1 

whole roast chicken

150 g (1 bag) 

baby spinach

1 punnet 

cherry tomatoes

2 large 

potatoes

1/2 cup 

whole egg mayonnaise

1 tbsp 

whole seeded mustard
Cooking Directions
Dice the potatoes and cook in salted boiling water for 10 minutes.
While the potatoes are cooking slice the cherry tomatoes.
Break the chicken up.
Plate the tomatoes and chicken with the salad.
Combine the 1 tbsp seeded mustard with half a cup of whole egg mayonnaise.
Drain the potatoes and toss them with the mayonnaise.
Mix the potatoes into the salad and serve.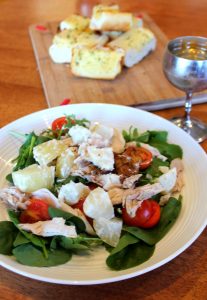 Difficulty: Easy peasy