Hello hungry peoples,
I am a huge oat fan. They are yummy, super filling and they make your body work properly. What's not to love? My pinterest feed is largely food related and Amish baked oatmeal kept popping up again and again. I thought "I must discover what this thing is". Essentially it is a cross between a breakfast casserole, crumble and an oat slice. Kinda like dessert for breakfast but good for you. I have been converted, this stuff is amazing. I have tried a few different recipes but the one  I am sharing today is definitely my favourite. I imagine the original recipe is fairly basic, oats soaked and baked in water with a few sultanas thrown in. This recipe uses a custardy base, made of milk and eggs, which makes the oats much richer but also much tastier.  The addition of maple syrup also helps thing along. Enjoy!
Pear and Almond Baked Porridge
Prep time: 15 minutes
Cook time: 45 minutes
Total time: 60 minutes
Yield: 8 serves
Calories per serving: 556
Ingredients
2 cups

rolled oats

1 cup 

self raising flour

1/4 cup 

maple syrup plus extra for serving

1/2 cup

flaked almonds

6

pears

1 tsp

cinnamon

1/2 tsp

salt

2

eggs

2 cups 

milk

1 tsp

vanilla paste

4 tbsp

butter
Cooking Directions
Preheat the oven to 180 ° C.
Grease an 8 or 9-inch baking dish with butter.
Peel and dice 6 pears into chunks and layer on the bottom of the casserole dish.
Mix the 2 cups oats, 1 cup self raising flour, 1/4 cup of the flaked almonds, 1 tsp cinnamon and 1/2 tsp of salt together.
Mix the 2 eggs, 2 cups milk, 1 tsp of vanilla and 1/4 cup of maple syrup together. This forms a kind of custard that the oats will be baked in.
Combine the oats and liquid and pour the mixture on top of the chopped pears. Sprinkle the remaining 1/4 cup of flaked almonds and 1 tsp of cinnamon on top.
Bake for 40-45 minutes, until the top is golden and the oats are set. Serve warm or at room temperature.
Drizzle with maple syrup just before serving.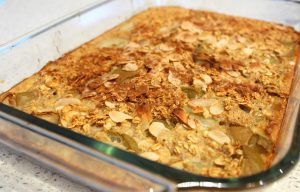 Difficulty: Easy peasy