Hello hungry peoples,
Today we are going to combine two things that are meant to be together; peanuts and chocolate. You can now buy Reese's Peanut Butter Cup choc chips in your local supermarket and it would be a sin to not use them in something fabulous. It was a serious light-bulb moment when I finally worked out how to make amazing brownies and once you have the base sorted you can add any extra flavouring you want. Let your creativity go wild!
One of the essential tools for brownies is a brownie pan. I had serious trouble getting my brownies to cook in the middle using cake pans. A brownie tin is not very high, spreading the mixture out and cooking it evenly. Worth the investment if you like brownies. Let's get into it!
Peanut Butter Chocolate Brownies
Prep time: 15 minutes
Cook time: 30 minutes
Total time: 45 minutes
Yield: 8 serves
Calories per serving: 676
Ingredients
200 g cooking chocolate (milk or dark)
1 cup plain flour
1 cup caster sugar
200 g butter
3 eggs
1/2 cup cocoa
1/4 cup chunky peanut butter
100 g Reese's peanut butter chocolate chips
Tools: Brownie Pan
Cooking Directions
Take your eggs out of the fridge and let them get to room temperature. I know this is hassles but you do this to make the mixture fluffier when you beat the eggs with sugar. The general rule is to do this for any baked goods.
Preheat your oven to 180 °C.
Coat your brownie pan with butter and line with lots of baking paper. It is definitely a good idea to give yourself some extra on the sides. This allows you to use the baking paper as handles to pull the brownies out.
In regards to cooking chocolate, the type depends on how rich you want the brownies. I generally go with dark for a rich brownie base. Put 200 g of cooking chocolate and butter into a microwave proof bowl and melt. This usually takes about 1 minute 30. Make sure you stir it around a bit throughout. This will make it melt quicker and start to incorporate.
Once everything has melted, set it aside and let it cool to room temperature.
Combine your three eggs and 1 cup of caster sugar. Whip them together on the highest mixer speed for about 4 minutes. You want them really fluffy. Almost double in volume. This make a moussey like base for your brownies.
Beat in your 1/4 cup of peanut butter.
Fold in cooled chocolate mixture.
Combine the flour and cocoa in a bowl and mix with a fork to get rid of any large chunks. Add them to the mixture and fold in a little bit. The more you mix the flour in, the more gluten you develop and you will end up with a tough brownie. Just roughly fold the mixture. It will still look dusty and unmixed.
Now we add the extra peanuty chocolate flavour. Mix in your 100g Reese's Peanut Butter Chocolate Chips.
Add the mixture to your baking pan, spreading it with a spatula. Put in the oven for about 30 minutes but check at the 25 minute mark. If it is still wobbly in the middle it needs a bit longer. You don't want to overcook your brownies. You will lose all the moist fudgey goodness. So sad! Your brownies should have a lovely crust on top and will be coming away from the sides slightly.
Let the brownies cool completely before you remove them from the pan. The cooling process is important. It lets the brownies settle and become fudgier, reducing cracking when you move it. That's it, your done!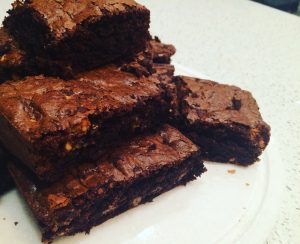 Difficulty: Easy Peasy