Hello hungry peoples,
A creamy chicken pasta sauce is a delicate and indulgent beauty. The problem I have always had with cream sauces is making them thick, without removing too much of the saucy-ness. No-one likes dry pasta. I have got around this by using a combination of milk and cream, which balances some of the richness from the cream, and a little bit of flour to help thicken the sauce slightly. I think it must be a great success as it is one of hubby's favourite dishes. Have I mentioned he's fussy? I feel like I might have in passing. If he loves it you know it must be good!
Chicken, mushroom and white wine fettucini
Prep time: 15 minutes
Cook time: 20 minutes
Total time: 35 minutes
Yield: 4 serves
Calories per serving: 630
Ingredients
150 g

swiss brown mushrooms

500 g 

chicken thighs

1/2 cup 

white wine

1/2 cup 

cream

1/2 cup 

milk

1 

leek

1/2 cup 

grated parmesan

2 tbsp 

parsley

2

garlic cloves

25 g 

butter

2 tbsp 

flour

250 g 

fettuccine
Cooking Directions
Put a large pot of salted water on a high heat and bring to boil with the fettuccine in it.
Slice the mushrooms and the leek.
Put a fry pan on medium heat with a generous amount of olive oil and fry the leek.
Once the leek is browning, add the mushrooms and more oil if needed. Season with salt and pepper.
Once the mushrooms are browned, remove them and the leek from the pan.
Dice the chicken thighs and fry them in olive oil in the pan.
Brown them and once they are cooked through, remove from pan.
Now to make the pasta sauce. Add 25 g of butter to the pan and let it melt. Add the 2 tbsp flour and mix it with the butter. It should form a paste. Let it cook for a minute and then add the 1/2 cup cream, 1/2 cup milk and 1/2 cup white wine. Season with salt and pepper, most of the parmesan cheese and some fresh parsley.
Add the ingredients back into the sauce and let it thicken slightly.
Drain the fettuccine once it is cooked and then pour the pasta sauce onto it. That's it, you're done!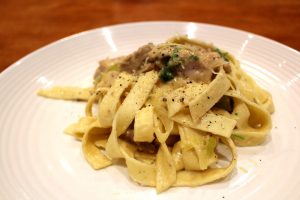 Difficulty: Easy-medium