Hello hungry peoples,
My hubby has been working overseas so I recently flew for what felt like a million hours to meet up with him in London. We thought about taking the kids for 5 minutes but my youngest is only 2. I neither wanted to do that to myself on a long haul flight or to other people. On the upside I got my first holiday away from the kids. One of the things high on my list of things to do was a food tour. This is an efficient way of trying some of London's best and literally eat all the things. In the end we went with an East End food tour because man they know their food.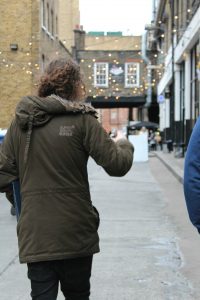 London's East End was once one of of the poorer areas and has a rich history of immigrants settling in the area. This always results in the best and most creative food, melding numerous food cultures together. The area is now completely gentrified, where a humble Georgian style terrace house will cost about $3.2 million pounds. The artists can't afford to live there anymore but their legacy lives on in the numerous street art.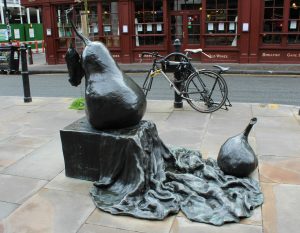 The tour was hosted by the lively Harry, who has a love of food up there with my own, and a local expert, having spent a lot of his teenage years hanging out in the area. Over three hours we walked the streets with him trying a huge range of food and hearing about the area's history. Best day ever!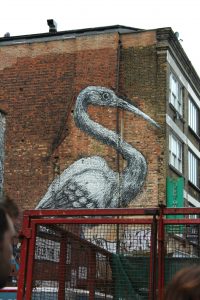 Stop 1: The best bacon sandwich
St. John Bread and Wine is known as a restaurant for chefs and the internet seems to be in agreement that this is the place for an outstanding bacon sammich. So what makes an amazing sandwich? Firstly the restaurant is a bakery and they make their bread which is charred on a griddle. The bacon is sourced from Gloucester Old Spot pigs which brings a strong smokey porkey flavour to the proceedings. Lastly they make their own own ketchup which has a spicy sweetness that contrasts perfectly. It was damn good!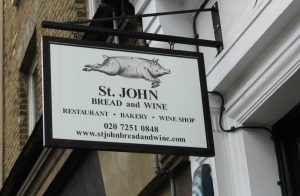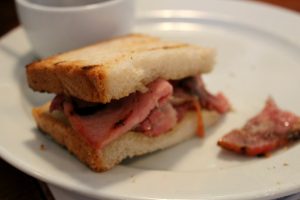 Stop 2: The best bread and butter pudding
Our next stop was at a classic English pub " The English Restaurant" where they specialise in classic British dishes. We were served a bread and butter pudding, served thankfully in a small ramekin as it is super rich. Rumor has it there are Roman ruins in the pubs basement.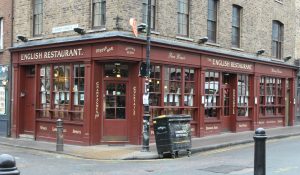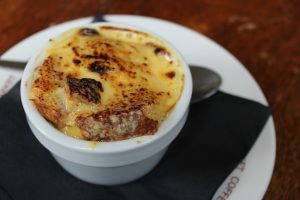 Stop 3: The best fish and chips
Poppies Fish and Chips is iconic in the East End for the crispiest batter in town. The cafe has a vintage feel and when using newspapers became illegal as a wrapper, the owner printed his own just so he could continue the tradition. The batter on the fresh fish was exceptional. I thought the chips were ok.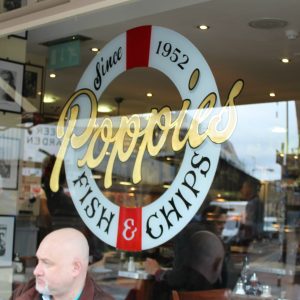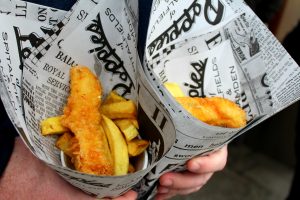 Stop 4: The best cheese
I love nothing more than a proper cheese room and the Androuet cheese room was a thing of beauty. They have an extensive range of English and French cheeses and everything is made and aged in the basement.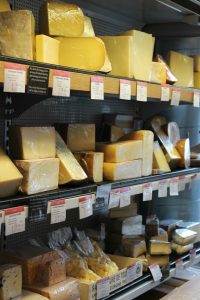 Stop 5: The best pub
You can't have a proper feast without an appropriate liquid component and the Pride Of Spitalfields is the perfect quintessential English pub. We sampled an English lager, which was very dry, and an apple cider which was much more up my alley. They also have an impressive cheap eats menu where everything is 4 pounds and everything comes with chips. Their resident cat Lenny has his own seat in the pub and is very active on twitter.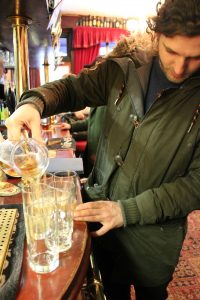 Stop 6: The best curry
Aladin in the East End has won a plethora of curry awards and is regularly in London's top 10 in an area where the competition is high. The curries we sampled had heaps of flavour and even the "hot" ones were bearable and delicious.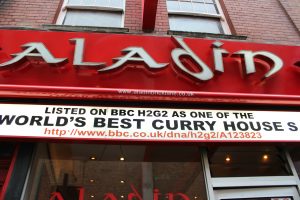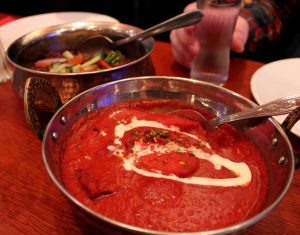 Stop 7: The best bagel
I was super keen to try a proper Jewish Deli, especially since we don't have any in Canberra. Mr. Sammy of Beigel Bake has been making bagels for 50 years and still regularly pulls 24 hour shifts as he likes the range of clientele you get in the wee hours of the morning. We sampled a bagel full of salt beef, hot English mustard and a sweet gherkin. My hubby and I were in agreement that it was the best of the day.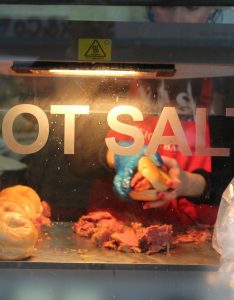 Stop 8: The best salt caramel tart
We finished the tour at Pizza East to experience one of London's top 100 eating experiences, their salted caramel tart. This was a dense rich concoction, served with some of the best tea I had in England (which is saying something)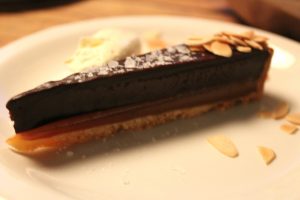 That's it people. There was some serious waddling back to the hotel. I thought I was going to explode.