Hello hungry peoples,
It seem weird to be trying an American burger chain in England but once hubby found out they were in town he had a rare moment of foodie enthusiasm. Five guys burgers and fries is apparently famous. Weirdly I had never heard of them so visited with no expectations.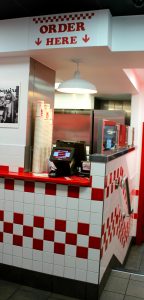 I did manage to order wrong, greatly embarrassing hubby. Apparently you have to select everything to build your perfect burger and my request for "just the usual" was met with a blank stare. The burger joint first opened in 1986 in Virginia and now numbers in the thousands.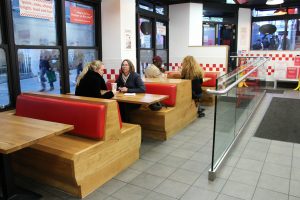 The five guys are five actual guys, the sons of founders Janie and Jerry Murrell. Way to breed and build a business! The venue is distinctive, with a cool retro red and white decor. It was also packed. This place is definitely popular.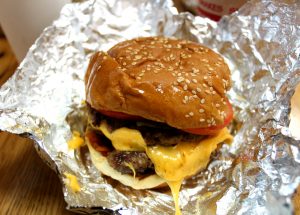 Once we received the food I have to admit that the burgers were a thing of beauty. They are also massive, with a double patty that was probably unnecessary for me. In terms of flavour it reminded me of Brodburger in Canberra, where things are kept simple and the quality of the ingredients shines through. The chips were really good as well and the small I ordered was true to form, being American sized.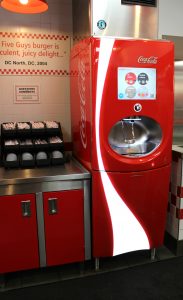 I didn't sample the hot dog menu but given it's popularity, and how obsessed Americans are with hot dogs, it must be pretty good. Overall I would definitely visit again when a burger craving hit. I just have to drive to Melbourne or Sydney.