Hello hungry peoples,
I am a South Australian at heart which means I am legally obliged to be obsessed with Fruchocs...and sponge drops…….and honey ice cream. Why these products hasn't been shipped to other parts of Australia confounds me. Fruchocs are essentially dried apricot and peach balls covered in chocolate. I recently had a craving and since I wasn't going to South Australia anytime soon I decided to make my own. They were astonishingly easy. Of course the originals have things in them like emulsifiers, glazing agents and acidity regulators. All that is really necessary for the home cook is to have something to make the dried fruit stick together. Some people use things like coconut or grapeseed oil. My solution is to use a bit of Kava. Kava is a coconut jam that you can get at Asian grocers. It is commonly served with things such a Hainan bread and is absolutely delicious. It also has the perfect flavour and consistency to create the perfect Fruchoc. Let's get into it!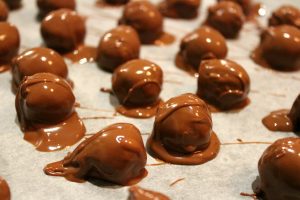 Fruchocs
Prep time: 20 minutes
Cook time: 1 minute 30 seconds
Total time: 20 minutes 30 seconds
Yield: 24 balls
Calories per serving: 128
Ingredients
1 cup 

dried apricots

1 cup 

dried pears

1/2 cup

kava

400 g 

milk/dark cooking chocolate
Cooking Directions
Place the dried fruit and jam into a food processor and blend until it comes together in a sticky ball.
Roll into balls of your preferred size and set aside.
Melt chocolate in a small bowl in the microwave (about 1 minute 30 seconds) until fully melted. I usually melt the chocolate and coat the balls in two separate batches so the chocolate doesn't cool and harden when I am working with it. Dark and milk chocolate both work well so go with your personal preference.
Roll balls in the melted chocolate using a fork and place onto baking paper and into the fridge to set. That's it, you're done!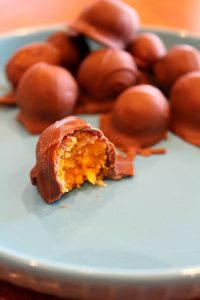 p.s. This technique can also be used to make truffles. If I have left over chocolate I use balls of peanut butter to make amazing peanut butter chocolate balls.