Hello hungry peoples,
Dutch babies are a very special kind of pancake. There really is nothing quite like them. It is baked in the oven in a very hot skillet with heaps of butter. While it is cooking it will puff up into gorgeous golden domes, sometimes to a ridiculous extent. I have had dutch babies that have puffed up so much that they have hit the roof of my oven. All of this puffing up makes them super light and crispy. One of the things I love about them is that you make one giant pancake for the family and everyone digs in. Much easier than painstakingly making one small pancake at a time for a hungry horde. A large pancake can feed two adults comfortably.
The pancakes are derived from a German Pancake, called a Bismark, but was actually conceived in America where they are very popular. Apparently German immigrants are commonly referred to as Dutch. You don't really see Dutch babies in Australian cafes so if you want to try it you really have to make your home. Luckily they are super easy. I like to serve mine with fruit, maple syrup and a little powdered sugar. A traditional version is lemon juice and sugar. If you want something creamy you could serve it with ice cream, marscapone cream, sour cream, ricotta or just plain old whipped cream.
Dutch Baby
Prep time: 10 minutes
Cook time: 25 minutes
Total time: 35 minutes
Yield: 1 large dutch baby
Calories per serving: 750
Ingredients
6 eggs
1 cup milk
1 cup plain flour
1 tsp cinnamon
1/2 cup butter
1 tsp vanilla
1 tsp salt
Tools: skillet
Cooking Directions
Preheat oven to 240 ° C.
Put your skillet into the oven. It needs to be nice and piping hot.
Now you make the pancake mix. I like to use my mixer for this. It just makes it super easy. First beat the eggs until they are a bit frothy.
Add the 1 cup of milk, 1 cup of flour, 1 tsp vanilla, 1 tsp salt and 1 tsp of cinnamon and beat the flour lumps out. Your batter is ready to go.
Hopefully your skillet is now nice and hot. Put the 1/2 cup butter into the skillet. It should melt and bubble quickly.
Pour the batter in and quickly return to the oven and close.
In about 20-25 minutes the pancake will be puffed up crazy and golden.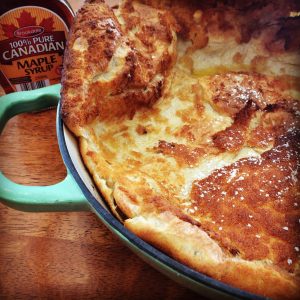 Difficulty: Easy peasy