Hello hungry peoples,
Continuing my Icelandic food crawl we are now visiting Strond Restaurant. The restaurant is located in southern Iceland, associated with a golf course which has the most ridiculous views I have ever seen. It looks across the plains of Iceland, through to the glacier capped volcanic mountains, with every angle offering stunning scenery. It would be worth the visit for this by itself but the food was also really great.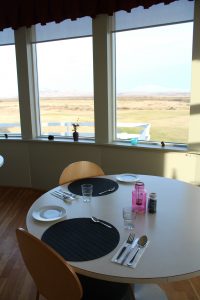 The menu has lots of Icelandic treats, as well as some good staples for the less adventurous. I really recommend the seafood soup in Iceland. Every single one I had was perfectly seasoned with a real depth of flavour that spoke to time and care taken in its preparation. I went for the horse fillet, which is a classic Icelandic dish. The Icelanders love their ponies, who are unique having been bred in isolation for hundreds of years. They are protected to the extent that you can't even bring a none Icelandic pony into the country.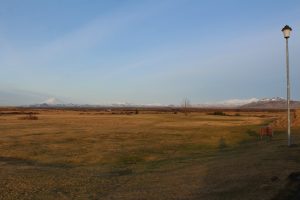 As much as they love them, the horses are also an important food staple for the Icelanders, having kept them alive during the tough times that follow volcanic eruptions in the area. These eruptions kill vegetation and animals and effect the climate, which in the past has lead to famines.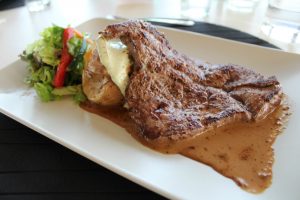 The horse fillet I tried had definitely been fried in butter, which I heartily approve of, especially as the meat can be quite lean. It was also served with a cognac-black pepper sauce which also met with my approval. The accompanying baked potato was also slathered in butter, so it was a very delicious and rich dish.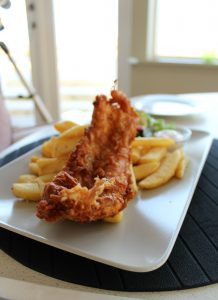 Hubby went for the fish and chips, which he said was perfectly good. We couldn't bring ourselves to try the bbq soy minke whale but it is on offer if you are feeling really adventurous. We skipped dessert as we were really full but of course there is an Icelandic Skyre cake, because the dessert menu everywhere always has Skyre. They also offered a meringue and a cheesecake.
Overall it was a really great meal, surprising for a place with such amazing views. The staff were also super friendly and helpful so if you just happen to be in Iceland you should check it out!