Hello hungry peoples,
Continuing my Icelandic theme, my discovery of Nordic crispbread (also known as knekkebrød) was one of my food highlights. Like dumplings, Nordic crispbread is ubiquitous through northern Europe,  with each country having their own variation. They are generally like a vita wheat, with a combination of mixed grains, but taken to the next level in terms of flavour and texture. They are also the perfect addition to a cheese plate, especially for creamier cheeses. They kill with some soft Icelandic cheese. Unfortunately my endeavors to find a local supplier have failed so I have had to resort to making my own. Thankfully these are super easy to make and will keep for several weeks. The ingredients can be sourced at your local health food shop. Let's get into it!
Nordic Crispbread (Knekkebrød)
Prep time: 10 minutes
Cook time: 60 minutes
Total time: 1 hour 10 minutes
Yield: Serves 8
Calories per serving: 318
Ingredients
1 cup 

rye flour

1/2 cup 

oats

1/2 cup 

wheat bran

1/2 cup 

flax meal

1/2 cup 

sesame seeds

1/2 cup 

pumpkin seeds

1/2 cup 

sunflower seeds

1/4 cup 

flax seeds

1 tbsp

honey

1 tbsp

baking powder

1 tbsp

salt

2 1/2 cups 

water
Cooking Directions
Preheat oven to 180 °C  and line a large baking tray with baking paper.
Combine all of the dry ingredients into a large bowl and mix it together.
Add 1 tbsp of honey and 2 1/2 cups of water and mix until it forms a slurry.
Pour the mixture onto the baking pan and spread it as thinly as possible.
Put in the oven and bake for 60 minutes. Hint: You can remove it part way and cut it up to make things easier later.
Allow to cool. Serve with a platter full of things like cheeses and preserved meats (I love me a platter) or eat by itself. It is delicious!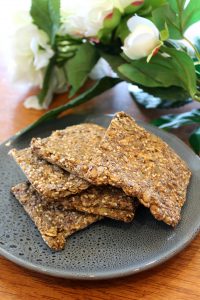 Difficulty: Easy peasy