Hello hungry peoples,
We have done it….we have hit soup weather. This is one of my all time favourite soup recipes. I missed out on the joy that is Pea and Ham soup for years, put off by its rather…er…*distinctive* aroma. It still doesn't smell good to me but the taste more than makes up for it. There are so many things I love about this dish. It is cheap and cheerful as a ham hock will set you back about $5 and the whole dish costs less than $10. A ham hock can also sit in your fridge quite happily for a long time so it is a great emergency meal. It also makes its own stock, which seems magical to me. I hate using powdered stock, and tend to run out of the home made stuff pretty quickly. Lastly it is super easy. This all appeals to my lack of planning and forethought nature. Let's get into it.
Pea and Ham Soup
Prep time: 10 minutes
Cook time: 60 minutes
Total time: 1:10
Yield: 6 serves
Ingredients
1 ham hock
2 litres water
1 bay leaf
1 onion
2 carrots
2 sticks celery
1 1/2 cups green split peas
1 tsp salt
1 tsp pepper
2 tbsp parsley
Cooking Directions
Firstly get a large soup pot.
Dice your onion, celery and carrot and fry in a tbsp of olive oil on a medium heat until they start to caramelise (get some brown bits).
Season with salt and pepper.
Add the hock to the pot and cover with water. If you want to speed up the cooking, boil the water in a kettle first. I try to use less than 2 litres of water. You want the hock to be covered in water so that you are getting maximum flavour from it but too much water results in a weak watery soup.
Leave the pot simmering at low-medium heat for 30 minutes so a lot of the water will evaporate away, which will condense the flavours. There is something amazing about stewing with bones. You get this depth of flavour that is really hard to replicate any other way.
Remove the hock and add the 1 1/2 cups of green split peas. Try to cut as much meat as you can off the hock. You will be surprised by how much there is in there. Try to avoid the fat and gristle as it is not pleasant in the soup.
Add the ham back into the pot . Cook for another 30 or so minutes until the peas have softened.
Blend some of the soup up using a stick blender. I don't bother doing this much as I like to have thick soup full of goodness and chunks.
Right at the end throw your parsley in, check the seasoning and add more salt and pepper as needed. If the flavour of the soup is a bit weak it probably needs more salt.
Serve with some lovely crusty bread and butter. That's it, your done!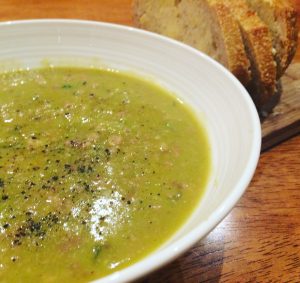 P.S. When I first made a version of this soup the recipe called for the vegetables to be sieved out to produce a smoother finish. This just seems wasteful to me. It is not like I am serving it in a fine dining restaurant. Plus hassles!
Difficulty: Easy peasy