Hello hungry peoples,
I recently had the pleasure of pretty much spending an entire day in Podfood, enjoying amazing service and some modern Australian fare. Firstly for lunch I gathered with some fellow food bloggers. The Canberra blogging community is simply amazing, supportive and tight knit, we try to get together regularly and it is always something of a special event. Good food is always a guarantee. Our table was laid out with flowers and moss, surrounded by the blackberry vines that had been raided for the days dessert. This is one of the special things about Podfood. It is nestled in Pialligo, surrounded by orchards and nurserys, a position they take full advantage of raiding their neighbours and their own yards for ingredients.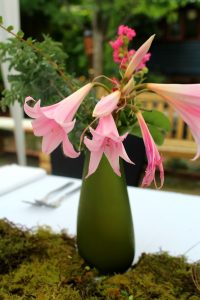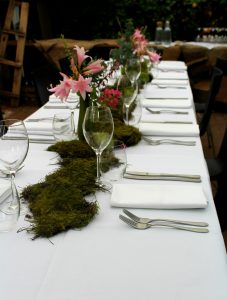 Since it was the weekend I started with a lovely blended Riesling from Austria (available by the glass). There is also a local Majura Park Reisling available which I tested out later that night and equally delicious. Since I was visiting later that night for the tasting menu I decided to forgo dessert (even I struggle with two desserts a day) and try some of the other options on the menu.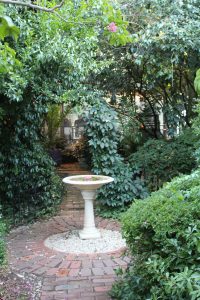 I started with the prawn noodles (literally noodles made of prawn) with a perfectly poached egg, bacon and caviar. It was as interesting as it was decadent.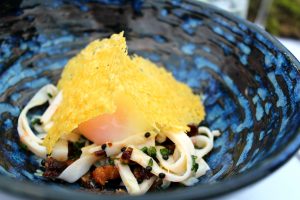 This was followed by a main of chicken roulade stuffed with mushrooms with a wasabi jelly, shimeji, chorizo and pea. A highlight of the meal was the side of chili and rosemary salt baked potatoes served with an aioli. These were probably the crispiest saltiest roast potatoes, and the best, I have ever had. So much so that I made sure that we had them again that night. Seriously……..go for the potatoes.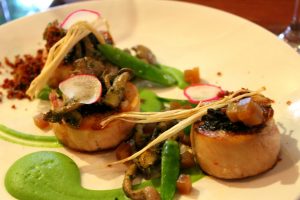 After a couple hours break I was back at the restaurant to celebrate Rob's birthday. Rob and I have known each other from way back when we went to school together. He even talked me into going to the Australian National University rather than University of Canberra. I think his argument was that ANU had nicer trees (which they subsequently cut down). Of course he then ditched me, attending maybe 17 hours of first year. He's an IT genius though so it was probably a good choice.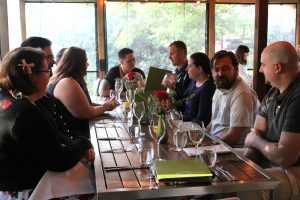 Rob is a serious foody, so much so that he even held his wedding in Aria (in Sydney) and served up a degustation as part of his wedding feast. Of course we had to have the chefs tasting menu, which meant I pretty much got to try everything else on the menu that I hadn't had for lunch.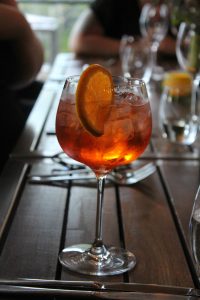 We started with some smoked fish on crackers. Next we moved onto duck rillettes. If you are a fan of pate this is the dish for you, as essentially the meat is cooked down into a paste like texture. not to my taste but there are definitely some big fans out there.
Next we had a play on fish a chips, a lovely pan fried gemfish with a cheeky potato chip on top. A seared rump was paired with some earthy root vegetables, always a winning combination and of course we had the aforementioned potatoes as well.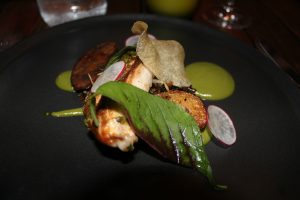 Lastly eating all the meats we were treated to two desserts. First a tart lime cheesecake, followed by a very fancy kind of french brioche toast deep fried in butter with apple puree. Both completely contrasting and very tasty.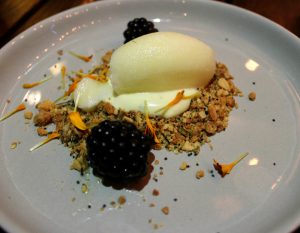 Phew I think that was it. It was a marathon of a day. Even with all my training I had to do some serious napping the next day as my body struggled to digest this feast. I also hear there is a breakfast degustation not to be missed. Podfood does not disappoint and the lovely garden surrounds and lovely people make it the perfect weekend retreat!