Hello hungry peoples,
It is with great sadness that I report that my favourite Italian restaurant, Provini in the city, has closed down. There was so much to love at that place. The dishes tended towards simple classic Italian fare, however, I would kill to know where they sourced their ingredients. An entree of just olives blew my mind. A salad of buratta with olives and basil…yes pleas sir, I want some more!
Anyway, I am getting distracted. Provini also offered a range of pizzas with some really interesting toppings. The one we are making today was by far my favourite. Smoked mozzarella paired with pork sausage and just for fun, finished with potato chips. Provini made the potato chips in house but to be honest if you buy a fancy potato chip like kettle chips it tastes the same. Smoked mozzarella can be obtained at fancy delis. I sourced mine from the
Fyshwick
markets.  I am making the pizza dough but a pre-made version would be fine and makes this an even easier dish. Let's get into it!
Sausage, Potato Chip and Smoked Mozzarella Pizza
Prep time: 60 minutes
Cook time: 5-10 minutes
Total time: 1:15
Yield: 4 serves
Calories per serving: 544
Ingredients
Dough
550 g plain flour
200 g coarse semolina flour
250 g continental flour
1 tbsp salt
1 tsp yeast
1 tsp sugar
3-4 cups warm water
Topping
4 pork sausages
1 ball smoked mozzarella (250 g)
100 g plain potato chips
2 tbsp olive oil

Cooking Directions
Put your pizza stone into the oven. Turn the oven onto it's highest setting fan forced. You need a piping hot oven to cook good pizza.
Combine your flours into a bowl and mix.
Make a small well in the flour and put the teaspoon of yeast and sugar in with a bit of warm water to make a wet paste. Leave it for a bit to give the yeast a chance to get going, happily chomping away on the sugar.
Make another separate well in the flour and add the tbsp of salt. Add some warm water to this to help dissolve the salt and mix into the flour.
Add about 3-4 cups of warm water to the flour to make a nice wet dough. This helps the yeast to get going. You can add more flour later to make a more workable dough. Use a dough hook on your mixer (or do some old school kneading) to mix everything together. Leave your dough on the bench for about an hour while you oven heats up.
Next the toppings. Remove the meat from the sausage casings. Make sure you break the meat up into small bits. The sausage cooks quicker, gets crispier with better flavor distribution.
Grate the smoked mozzarella. You will use the whole ball.
Grab a generous fistful of dough and roll it out nice and thin.
Now that your toppings are ready to go, take your pizza stone out of the oven. First drizzle oil on one side of the pizza dough.
Put the dough on the stone, oiled side down. Drizzle some olive oil on top and spread with a spoon.
Put your sausage mince all over the dough, pressing it in slightly. Spread the mozzarella on top.
Pop you pizza into the oven. Everything should be cooked in about 5-10 minutes. Top with potato chips and serve with a green salad. That's it, your done!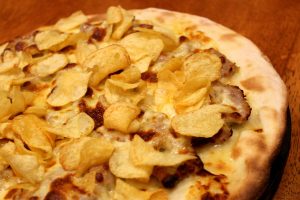 Difficulty: Easy peasy