Hello hungry peoples,
There is a reason Americans are crazy for their meatballs. They are just delicious man. Something about the construction and cooking process produces meatballs that taste extra meaty, but also kind of light and bouncy. This texture can be difficult to achieve but when you get it right it is heavenly, especially when smothered in a good basic red sauce. The flavour explosion is achieved by taking humble balls of mince and building complexity by adding herbs, cheese, bread and heck….why not some bacon? It is super important to make the meatballs nice a moist. No-one likes nasty little dried up balls. I do this by using a fairly fatty bacon as well as fresh bread instead of using breadcrumbs. I have even heard of people using really gelatinous cubes of stock to trap extra moisture. Definitely on my list of things to try! To make things super easy I blitz everything together in a food processor and use a hot grill to brown the meatballs before drenching them in sauce. Since you have put so much effort into flavouring your meatballs, it is best to keep the accompanying red sauce nice and simple so the flavours you have already put in come through.
American style Italian meatballs with sauce
Prep time: 20 minutes
Cook time: 20 minutes
Total time: 40 minutes
Yield: Serves 6
Calories per serving: 819
Ingredients
Meatballs
500 g 

pork mince

500 g

beef mince

1 bunch 

parsley

2 

garlic cloves

50 g grated

parmesan

1 

onion

4 rashers 

bacon

2 slices

white bread

1 

egg

1 tbsp

oregano

1 tsp 

chilli flakes

4 tsp 

salt

1/3 cup

buttermilk (or milk with a splash of lemon juice)
Red sauce
2 * 700 g jars

passata

1/2 teaspoon

chili

1 tsp 

oregano

2 

garlic cloves

1 bunch 

basil
Cooking Directions
Cut the crusts off the bread and cut the remainder into chunks. In your food processor add the bread and buttermilk, mash it together and let it soak for a bit. Peel your onion and 2 garlic cloves and also place them in the food processor. Add the parsley, the tbsp dried oregano, egg and bacon and then it blitz it together.

Combine the mixture with the pork and beef mince and shape into squash sized balls. Spray the meatballs with olive oil and place the meatballs in a grill on high and brown. Turn and brown the other side.

Next we make the red sauce. Crush your garlic cloves and fry in a little olive oil. Once they start to brown put the chilli and oregano in. This gives the sauce a nice little kick. Let it get fragrant and then add your passata, as well as your basil. Put on a medium heat until it is bubbling.

Add your meatballs and give them a stir. Put the lid on and turn the heat down slightly. You want to finish cooking the meatballs in a red sauce until cooked through. Serve with spaghetti and some grated parmesan.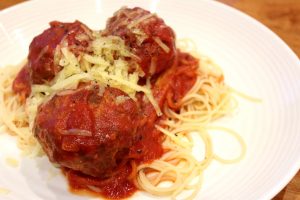 Difficulty: Medium