Hello hungry peoples,
If you are looking for a nice little drive out of Canberra for some amazing nosh then Le Très Bon is for you. Christophe Gregoire, the owner, is a bit of an institution in Canberra, having owned the a French restaurant in Manuka before moving out to Bungendore. He is an old school French chef, with dishes such as duck a l'orange, beef bourguignon and maison cassoulet familiar favourites on the menu.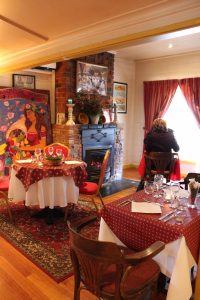 He hails from the Alsace region in France so he is a legit French chef. He also travels back regularly, hosting food tours in his childhood area. These include cooking classes, which also occur regularly at the restaurant. The format is based around a multi-course French feast, so you can pick your favourite French classics and learn to make them at home.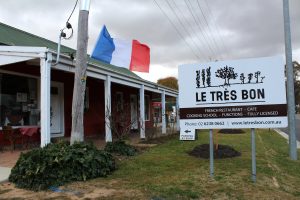 The restaurant itself is in a cosy little cottage and decorated in true French fashion, with intimate tables around a large roaring fire. Apparently Christophe has friends in the truffle trade and they are featured through-out the current menu. Truffle mash is a very good accompaniment to beef bourguignon. There is a kids menu option where the kids get a proper French main dish, like duck confit, and a dessert for $20. There are no nuggets or fish and chips on this menu. They were also exceptionally nice to the kids. Pencils and paper for drawing were provided and my daughter even had the pleasure of going into the kitchen to meet the chef. I was exceedingly jealous. The front of house is run by Christophe's wife Josephine and she is a powerhouse for providing friendly efficient service.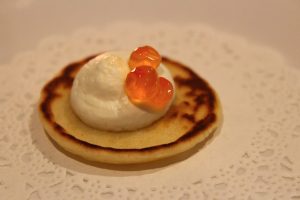 So what about the food? As a starter we were served a blini, topped with a truffle mousse and caviar. The kids were served this as well and surprisingly my daughter gave it a thumbs up. This seems an expensive habit for a 7 year old.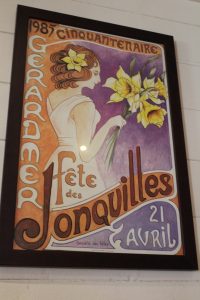 I went for the mussels cooked in celery and white wine, a dish I would struggle to make at home since no-one else is keen on shellfish. The serving was generous, with a huge steaming pot delivered to the table. "Would I be sharing the mussels?"……"Oh no they are all mine!".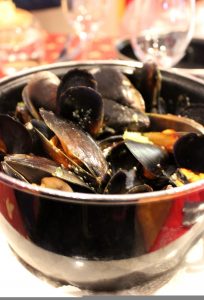 The delicate flavours combined perfectly and I was very happy indeed. My hubbies beef bourguignon was perfect. Meltingly tender beef with lots of winey mushroomy flavour. This isn't the first time we have visited this restaurant and while it may be a bit old school for some we always have an amazing time with some delicious food!