Hello hungry peoples,
My mothers group recently attempted an escape room in Phillip. It was a bit of a shamozle (we didn't even come close to escaping) and afterwards we were ready to drown our sorrows and fill up on some grub. Being the extreme northsider that I am I rarely visit Woden but there seems to be a lot going on food wise. In the end I went with No 10 Bar because 1) It is open all day and thus ready to go when we finished our activities at 5 pm and 2) I get food as soon as possible (refer to reason 1).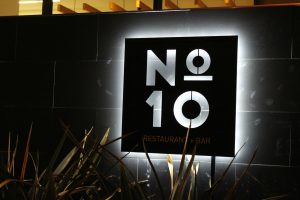 The bar/restaurant is located in the foyer of an Abode Hotel, which would be very convenient for out of town visitors. The menu is modern Australia, with a lot of fusion and nods to other food cultures. Sally went with the southern fried chicken and waffles and, in agreement with millions of Americans, declared it was delicious.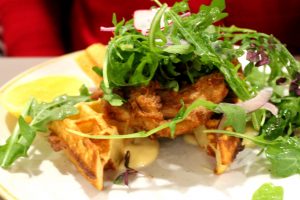 Pallavi, being a vegetarian, went with the only vegetarian main, a pumpkin risotto. She was not a happy lady, it was not OK. Gioia and I couldn't choose between the entrees, which I found much more exciting then the mains, so we pretty much ordered all of them.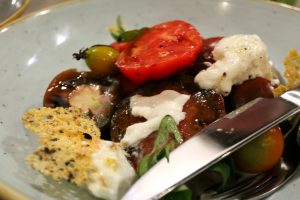 I really liked the heirloom tomato salad, although it could have used a lot more mozarella. The parmesan crisp was a nice touch on top. The eggs and ham was a meal highlight. Crumbed and fried soft poached eggs were served with shaved prosciutto, roast garlic aioli, wild rocket and salsa verde. Nom nom!!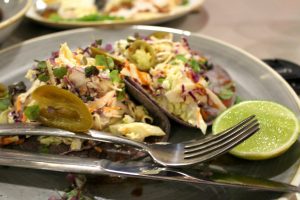 The soft pulled pork taco was also really good, served with coleslaw, chipotle sauce and pickled jalapeno. They were spicy! The sweet potato fries were also amazing and super crispy, something that is very hard to achieve because of the moisture content of the sweet potatoes. This is something I am working on at home and have not yet conquered.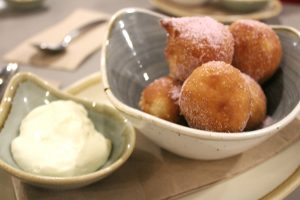 Lastly we finished with the warm raspberry sugared doughnuts. They were piping hot and fresh but really needed some kind of filling to take it to the next level. The raspberry sugar just wasn't punchy enough to complete the dish. Given the location is a bar I should note that the wine was very nice, with lots of options. Overall the night was a bit hit and miss but the successes here were very good. Sadly the misses hit the other extreme. Still it is a convenient location and I would happily visit again.